---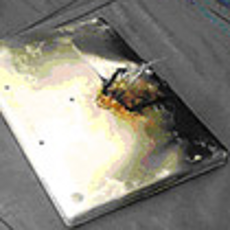 A MacBook was damaged in a 2007 battery fire
Technology sites have displayed photographs in the last 24 hours of a Samsung Galaxy SIII handset that appears to be damaged by fire. The reports said the phone burst into flames, melting part of the chassis.
Samsung was quick to respond.
"There have been recent online posts displaying pictures of a Samsung GALAXY SIII that appears to have heat-related damage at the bottom of the device," the company wrote in its product blog. "Samsung is aware of this issue and will begin investigating as soon as we receive the specific product in question. Once the investigation is complete, we will be able to provide further details on the situation. We are committed to providing our customers with the safest products possible and are looking at this seriously."
According to published report, the handset began to overheat while it was in a car mount. The phone in question is owed by an Irish consumer who was in Dublin at the time.
White flame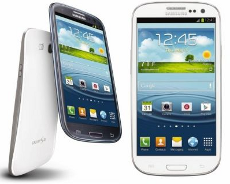 The consumer reportedly told officials he was driving in traffic when a white flame and sparks began coming out of the device. The consumer said he isn't even sure the problem was with the phone, saying it could have been a combination of issues.
A few years ago there were numerous reports of laptop computers overheating and catching fire. In 2006 Sony Corp. recalled about 340,000 rechargeable lithium ion batteries used in Fujitsu Computer Systems Corporation, Gateway Inc., Sony Electronics Inc., and Toshiba America Information Systems Inc. notebook computers. The lithium ion batteries can overheat, posing a fire hazard to consumers.
Prior to the recall there had been 16 reports of notebook computer batteries overheating, causing minor property damage and two minor burns.
The Galaxy SIII is Samsung's newest Android handset featuring Android 4.0 Ice Cream Sandwich, 4G LTE/HSPA+ 42 capability, a dual-core processor, and an 8-megapixel camera.
---