---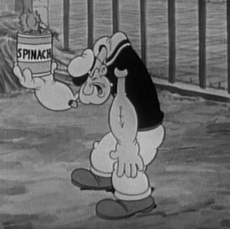 In recent years food manufacturers have employed popular cartoon characters as mascots and emblems to help capture children's attention. It's proved to be very effective.
So much so that many children's health advocates have attacked the practice, saying it can encourage unhealthy eating habits and can make turning the childhood obesity tide that much harder.
But those with very long memories may recall when a cartoon character promoted healthy eating: Popeye the Sailor. In each episode, Popeye - on the verge of being bested by his arch nemesis Bluto - rallied to save the day by quickly eating a can of spinach.
Children everywhere who might ordinarily turn up their nose at the leafy vegetable ate it gladly when it was served them, mainly because it was what Popeye ate. Health researchers at Cornell say updating that concept for today's children can have similar results and help promote a healthier diet.
While today's children probably haven't a clue who Popeye is, they instantly recognize characters like Batman, who the researchers say could be utilized as an effective role model.
What would Batman eat?
"Fast food patronage is a frequent reality for many children and their parents. Simply instructing a parent to order healthier food for a child is neither empowering for a child nor easy for a parent," said Brian Wansink, Cornell professor of marketing, director of the Cornell Food and Brand Lab and study co-author. "Advising parents to ask their child, 'What would Batman eat?' might be a realistic step to take in what could be a healthier fast-food world."
The findings appear in the paper, "What would Batman eat? Priming children to make healthier fast food choices," which is published in the journal Pediatric Obesity.
Wansink, along with his team, conducted a study in which 22 children, ages six to 12, at a summer camp were asked if they wanted apple fries or French fries during several consecutive Wednesday lunches.
Fully 45 percent of the children selected apple fries after being shown pictures of superheroes and other role models, compared to the 9 percent who chose apple fries with no superhero prompts.
"On average, children who selected apple fries consumed only 34 calories whereas children who selected French fries consumed 227 calories. That's almost seven times as many calories just from the side dish of the meal," Wansink said. "If you eat fast food once a week, a small switch from French fries to apple fries could save your children almost three pounds of weight a year."
Popeye the Sailor was a Depression-era cartoon strip adapted for the screen in the 1930s. Between 1931 and 1936, after the cartoon started playing in movie theaters, U.S. spinach consumption rose by 33 percent.
---