---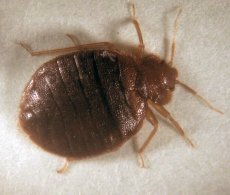 The folks at Terminix Pest Control have scoured the country and issued a list of U.S. cities with the most bedbug infestation. This year, Philadelphia wins the dubious honor.
The list was put together by compiling information supplied by all 300 Terminix branches operating in the U.S. The ranking is the result of evaluating service calls and confirmed cases by service professionals.
The 2012 ranking proves bedbugs continue to be a problem across the country, with five cities –Cleveland, Houston, Indianapolis, Miami and New Haven – joining the top 15 this year. Other cities, such as Columbus, Dallas, Philadelphia, San Francisco and Washington, D.C., saw growing bedbug populations this year.
Lots of bedbugs in Ohio
Ohio continues to be a hotbed of activity, with three of its cities making the top 15. The complete rankings are:
Philadelphia
Cincinnati
New York
Chicago
Detroit
Washington, DC
Columbus, Ohio
San Francisco
Denver
New Haven, Conn.
Dallas
Houston
Indianapolis
Miami
Cleveland
"Bedbugs continue to increase their presence across the U.S.," said Stoy Hedges, an entomologist with Terminix. "While major metropolitan areas are most at risk, it is important to note that bedbugs have been spotted in cities and towns across the country."
Travel complaints

Bedbug have become a common source of complaints among hotel guests these days.
"My wife and I stayed at the Super 8 in Chillicothe, Ill., checking out early in the morning," Willie, of Grand Forks, ND., wrote in a ConsumerAffairs post. "The last morning we were in the hotel, we found bed bugs on the head board and under the mattress. Now we are back home and are washing/disinfecting all of our clothing, luggage and everything else we had in the room. Had I known the hotel was infected with bed bugs we would have never stayed there."
If you're traveling this summer and staying at hotels and motels, here are some steps you can take to spot and avoid bedbugs:
Check hotel headboards, mattresses and box springs for bedbugs and dark blood spots.
Hang all clothing. Leave nothing lying on the bed or furniture.
Avoid storing your clothing in the hotel's furniture drawers.
Store suitcases on a luggage rack as far from the bed as possible.
Vacuum suitcases when returning home, and immediately wash clothing in hot water.
Between trips, store luggage in a sealed plastic bag in a garage or basement, away from bedrooms.
If you suspect your hotel has bedbugs, ask for a change of rooms.
---