---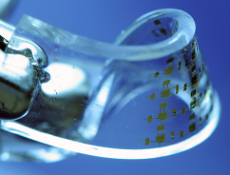 In recent years, technology and athletics have been moving closer and closer together. Whether it's new aerodynamic, lightweight bicycles for cyclists or newly designed full-body swimsuits for competitive swimmers, many athletes aren't just relying on their natural ability to perform well anymore.
The latest technological advances for athletes come by way of Nike and Reebok, for both the fitness enthusiast and the golfer.
Reebok and the electronic company mc10 will be launching a new tracking sensor device for runners that the company claims is far better than previously released electronic armbands. Reebok says the new exercise device is thinner, lighter and more malleable, as it can bend and stretch while one is working out. Details of the new device are vague, but consumers can see for themselves how different the new armband is, as it's rumored to be released later this year.
mc10 is also releasing what it calls the Biostamp Sensing Sticker, that will be introduced in 2013, and the company says it can assist those with congestive heart failure, and sense just how the heart contracts. Diabetics can use the device to help detect hypoglycemia before it flares up, and first responders can use a "person-down" triage patch that can read vital signs and determine if quick medical assistance is needed.
"If you think about how data is collected from the body, it's by using clunky straps and boxy equipment," said mc10's CEO David Icke at a speaking engagement."mc10 is focused on advancing that so it's seamless, thin, invisible to the user and scalable for large scale manufacturing."
Putts and drives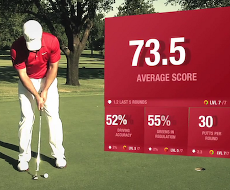 Nike has also created a new technology for the golf enthusiast, as the Nike Gold 360 app allows golfers to score their game, improve their swing and share stats with other users. The app also tracks one's golf play by documenting driving distance, the average amounts of putts per hole, and also allows golfers to compare golf swings with friends or competitors. Users can also upload their golf game for other golfers to see and critique.
The app is also equipped with a training component, which gives tips on the golfer's body movement, and overall play. The idea of the app, Nike says, is to act as a virtual coach that will provide digital feedback for further improvement. The app is free for iPhone and iPod touch users at retail Apple stores.
With all of the technological advances in the sports world, it becomes increasingly harder for athletes and fitness enthusiast to perform at mediocre levels. Especially when further advancements are sure to be on the way.
---