---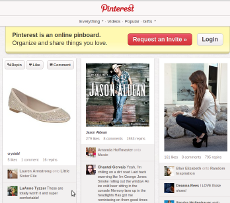 Retailers using social media networks to snag new customers is nothing new, and sites like Facebook and Twitter have have led the way in linking consumers and retailers together for the past several years.
But, according to the 2012 Social and Mobile Commerce Study, conducted by Shop.org, The Partnering Group and comScore, the online pin board Pinterest has become the main go-to for consumers to find out what's new and trendy in the retail world.
"Pinterest has given retailers another channel to 'listen' to and interact with both existing and new customers, telling an ongoing visual story through images of their products and their brand 'spirit,' a story that customers can then tell again to their friends and family members," said Shop.org Executive Director Vicki Cantrell, in a statement.
A ConsumerAffairs computerized sentiment analysis of more than 2.2 million postings on social media over the last year support the Shop.org findings. Our analysis found consumers holding unusually enthusiastic views about Pinterest.
Consumer sentiment has been around the 80% positive level for the past year, holding steady even as the site has gained many millions more users.
Facebook, on the other hand, has experienced a steady decline in consumer sentiment, falling from the mid-30% area to nearly zero following its bungled IPO, according to a ConsumerAffairs analysis of more than 87 million postings over the last year.
Facebook users also display a vaster range of negative emotions than do Pinterest addicts.
The report shows that U.S. consumers follow an average of 9.3 retail companies on the Pinterest site, compared to an average of 6.9 retailers they follow on Facebook, and 8.5 retailers they follow on Twitter.
It was also shown that nearly two out of five (38 percent) consumers that shop online, follow retailers through one or more social networking sites, with YouTube and Facebook being the sites that consumers spend most of their social actvity on.
Additionally, seven in 10 (70 percent) of consumers who follow a blog of a retailer will also click on to its website. The report also outlined that over two-thirds (68 percent) of consumers use YouTube to browse and research retail companies.
Bargains
As for what initially leads a consumer to a retailer's website, bargains are still the main draw for online shoppers, but not as much as before. In 2012, 51 percent said they follow a retailer to get information on deals and coupons, which is down from 58 percent in 2011. Four in 10 (43 percent) said they research product information, and 36 percent desire to post or read comments about merchandise or services.
In addition, three in 10 consumers who track retailers through social media say they are searching for information on specific events (34 percent), current trends and ideas (31 percent), or photos and videos (30 percent), like "how-to's" and styling advice from experts (27 percent).
"Retailers have done a commendable job embracing social media – engaging their customers where it makes sense while keeping their brand relevant, interesting, appealing and exciting on each platform," said Cantrell.
---