---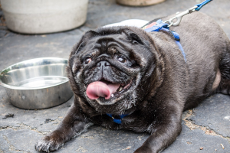 Pet owners over the years have reported major illness and even death when they switched to a new brand of dog food. In most cases the consumer blames something in the pet food.
While mold or bacteria can attach itself to dog food and make animals sick, it's not always a problem with the food itself that is causing the problem. Debbie, of Orlando, Fla., runs a non-profit animal rescue shelter and sees a problem in many of the dog food reviews, especially ones concerning Pedigree, which she said she uses in her operation.
"We have had over 6,000 dogs that we have rescued and placed in that time frame," Debbie wrote in a ConsumerAffairs post. "We have not had any issues with the dogs eating Pedigree. It seems that a lot of the complaints on this site are from people that bought the food and started feeding their dog for the first time. As with any food change, it can cause severe intestinal upset, to the point of the dog having to be hospitalized. When changing foods, you need to do it slowly and mix it together with the old food and gradually switch the dog over. Vomiting, diarrhea, bloody stools, etc. are all possible if the dog is not switched over correctly."
Careful transition
Debbie is correct. Veterinarians recommend changing a dog's diet gradually. Some breeds will be more sensitive to change than others. The ingredients in some brands of dog food might also require a careful transition. Also, puppies may be especially sensitive to change.
Dry food, especially, may all look the same but the ingredients can be very different. For example, the old brand may have a heavy concentration of meat products while the new food is mostly grain.
This can be a problem when your dog is allergic to corn, as some are. Corn can be quite common in low-priced dog food.
Most veterinarians say the change to a new dog food is best accomplished over about a two-week period. You might want to start off with a mixture of 3/4 cup of the old brand to 1/4 cup of the new brand and see how that goes.
Watch your dog carefully and if problems develop, consult your veterinarian.
---