---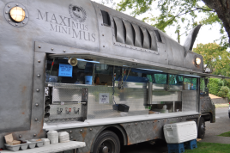 A Seattle food truck (Wikipedia photo)
If you've looked around during lunch time you've probably noticed a few more food trucks than before, as the concept of the mobile takeout restaurant has been catching on within the last year or so.
This week, Chicago Mayor Rahm Emanuel backed a proposal that would permit food trucks to legally operate within city streets, and cook meals within vehicles.
The ordinance would allow trucks to sell food while being parked for a two-hour maximum in a designated area, a legal parking space, or a private residence with the owner's permission. Mobile food trucks also have to be at least 200 feet away from restaurants, according to reports.
In addition, the city of Chicago will create specific parking areas for trucks that will soon turn certain streets into entire food sections, which will more than likely increase both consumerism and tourism within the city.
His Honor, a former top aide to President Obama and no political slouch himself, has no doubt been reading the political tea leaves, for there is no doubt that food trucks are winning the hearts and minds of American consumers.
ConsumerAffairs conducted a computerized sentiment analysis of about 490,000 comments posted on social media over the last year and found net positive sentiments in the 70%-80% range for most of the year.
But why?
Why have food trucks, and the entire concept of them become so popular in recent years?
A 2011 study by business consultants Technomic showed that 91 percent of consumers saw food trucks as a lasting trend compared to seven percent who said it would be a quick passing fad.
Our sentiment analysis found that, other than being a little greasy, food dished up from the back of a truck is just what consumers have been waiting for.
Consumers are also able to locate different food truck options easier than locating different restaurants, especially during a quick lunch break. Since trucks don't settle in just one area, it gives both businesses and consumers more opportunities to find each other.
First the obvious: Low overhead and start-up costs allow people who are skilled in the kitchen to get their product exposed without breaking the bank to open a restaurant. Experts say starting a food truck costs around 30 percent less than opening a restaurant.
Also, if the food truck fails to take off, business owners have an easier and cheaper way to back out, especially compared to shutting down a restaurant.
Food trucks can benefit the consumer too. Since it's easier and less expensive to start one, more trucks are on the street, thus giving the consumer a wider variety of food options at relatively reasonable prices.
Serendipity
The Technomic also showed that 61 percent of consumers found out about mobile food trucks by just coming across them. In addition, 84 percent of the respondents said they follow a food truck through social media on a weekly basis. Free advertising through pages like Twitter and Facebook is also a big part of the food truck revolution.
The report also indicates that 75 percent of consumers who frequent food trucks that are clustered together, purchase food from multiple trucks for one meal. This is mainly due to the specialized nature of food trucks, which is ideal for mixing and matching different food products, the report says.
The food truck craze, which started from the neighborhood meal cart, has grown so popular that major restaurant chains are also using the idea to introduce new products. Taco Bell, Chick-fil-A, and Qdoba Mexican Grill have all hitched its brands to the concept of bringing food on the road.
Even non-food brands are using the business model. Fashion designers, vinyl record stores, and magazine companies have all adopted the trendy selling pattern, and converted old mail and ice-cream trucks into full-fledged businesses.
Critics of the food truck craze are mainly restaurant owners and food event organizers, who complain of customers being lured away because trucks remain too close in proximity. Mayor Emanuel's backing of the proposal to keep trucks at least 200 feet away from restaurants could spread nationwide, and provide other business owners with some wanted breathing room.
So far no customer complaints have been documented in our ConsumerAffairs Complaints and Review section about mobile food trucks, which either indicates trucks are providing good service, or the concept is too new for consumers to fully assess.
10 best
According to Smithsonian's list, some of the ten best food trucks in the U.S. are Kogi in Los Angeles, Gastro Pod in Miami, Lardo in Portland, Ore., Clover Food Lab in Clover, Mass., and Fojol Brothers in Washington D.C. The full best-of list can be seen here.
At this year's 93rd Annual National Restaurant Association Restaurant Hotel Show, food trucks were a major part of the discussion.
Experts told show attendees that six out of 10 consumers would visit a food truck offered by their favorite restaurant, according to research. This of course had restaurant owners at the convention salivating, as they were all in attendance to further grow their businesses.
Some experts even say food trucks are healthier lunch options, since many of them use fresh ingredients, and offer more low calorie and vegetarian items than a lot of restaurants.
---