---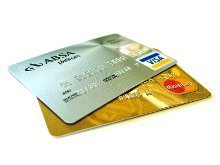 There are an increasing number of credit cards that offer various amounts of cash back on your purchases. Selecting the best one might not be that easy, however, since cards offer bigger rewards for some purchases than others.
"We did an analysis of the typical U.S. consumer's spending habits and designed a calculator that will help them find the cash-back credit card that will be more most beneficial for them," Erik Larson, President of NextAdvisor, told ConsumerAffars. "Everyone's spending is different."
And the cards are all different too. Some might pay you more for gasoline purchases. Others might pay the most on travel. If you travel a lot in your business, then it would serve you to have a rewards card that paid the most for travel charges rather than one that rewarded you for grocery purchases.
"We calculated the savings over two years instead of one because usually, in the first year, there will be some kind of bonus for opening the account," Larson said. "By including the second year we can provide a more realistic picture of the rewards."
First year bonus cash
For example, the Capital One Cash Rewards card includes a $100 bonus when you spend $500 in the first 3 months. That means you will probably get more back in the first year than the second.
The Capital One Cash Rewards card, which ranks first in NextAdvisor rankings of cash-back cards, offers a straight one percent cash back on all purchases, but also includes a 50 percent annual cash back bonus. This bonus nets cardholders 50 percent of the cash back they earn each year.
NextAdisor's calculator ranks 12 different cards, most without an annual fee. While an annual fee will cut into a users net cash back rewards, Larson says it doesn't have to be a deal-breaker.
"For example, the Blue Cash Preferred card from American Express has an annual fee, but if you spend a lot each month in it's prime categories, it's worth it to pay the fee," Larson said. "On the other hand, if you don't spend a lot each month, selecting a card with an annual fee might not pay off."
For many credit card customers, the whole idea that more card issuers would be offering you cash instead of hitting you with fees is a refreshing change from just a few years ago. The CARD Act has been in force for two years now, and Larson says he thinks generally it has improved the credit card landscape for many consumers.
Using the NextAdvisor calculator, consumers are not only able to identify the cash-back card that is best for them but can go to the company's website where they can apply. But Larson says consumers should do their homework before applying.
"Look for a card with a program you can understand," he said.
---