---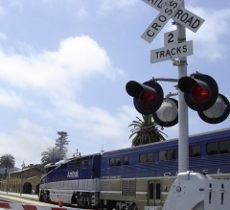 Federal regulators have ordered railroads to make it a little bit easier for consumers to report unsafe conditions and equipment malfunctions at railroad crossings.
Railroads will be required to install signs at highway-rail grade and pathway crossings with telephone numbers the public can use to alert railroad companies to unsafe conditions.
"Safety is our highest priority," said Transportation Secretary Ray LaHood. "The sooner railroads can be made aware of potentially unsafe conditions, the faster they can respond to ensure the safety of everyone driving over or walking across highway-rail crossings."
Under the final rule published in today's Federal Register, railroads must establish Emergency Notification Systems (ENS) by installing clear and readable signs with toll-free telephone numbers at crossings so the public can report unsafe situations and for railroads to respond to malfunctioning warning signals, vehicles stalled on the tracks or other emergency situations.
Depending on a railroad's operating characteristics, calls may be received through a 24 hour call center, or for smaller railroads, through an automated answering system or third-party telephone service.
"The signs will help reduce the risk of certain highway-rail crossing collisions," said Federal Railroad Administrator Joseph C. Szabo. "They will tell the public who to contact if they come upon a vehicle stalled on the tracks, or see problems involving flashing lights and gates."
Upon receiving a call, the dispatching railroad is required to contact all trains authorized to operate through the crossing, inform local law enforcement to assist in directing traffic, investigate the report or request that the railroad with maintenance responsibility for the crossing to investigate the report.
There are approximately 211,000 public and private highway-rail and pathway grade crossings in the United States. Many major freight and commuter railroads already have systems in place to receive emergency reports.
---