---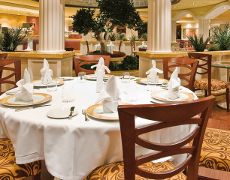 What is it about eating out that's so nice?
On the surface that may seem like a stupid question. I can already hear the more sarcastic readers saying, 'ummm.....the food maybe?
But let's dig a little deeper than that. What really draws us away from our stovetops, and using those refrigerated groceries that were carefully written down and purchased? With new cooking shows, and entire cooking channels being birthed by the millisecond telling us to cook, cook, cook, Americans are eating out in increasingly high numbers regardless of their income level.
Although it's widely known that eating at home is healthier, eating out is still the highest weekly expenditure for U.S. consumers, according to a 2010 study by the U.S. Bureau of Labor and Statistics.
Whether it be a high-end restaurant where presentation sometimes supersedes portion or taste, or a fast-food joint where you gaze at the wall menu though it hasn't changed in decades, eateries aren't that concerned with how healthy you're eating.
Sure, many restaurants now list nutritional information next to the menu items, but only because they have to. In 2010, legislation was passed that forces restaurant chains to list its calorie counts next to their products.
Fancier restaurants and fast-food chains share an equal amount of fluctuation when it comes to healthy and unhealthy menu options. But let's face it, the majority of U.S. consumers prefer restaurant chains over the white-table-clothed expensive variety. Waiting 50 minutes for a Saturday night Chang's table is proof.
Although we like to occasionally dabble in the culinary unknown, there's something comforting about going to a familiar chain, and knowing what you're getting is something you've had a million times already but love each go around. But at what nutritional cost does that love come?
Not the top concern
Most consumers don't go to restaurants to seek out healthy menu options, because it's all about satisfying the pallet. I mean eating out is supposed to be at least partially recreational, right?
But what about when eating out isn't connected to fun, a date, or an evening out with friends? When we're on our way to the work, and stop to get that quick bite, are we eating healthier then? Many are not.
Eric Hudson, a 37-year old computer program designer told ConsumerAffairs that he doesn't really have the time to think about health when grabbing something to quick to eat.
"It's mainly because of time constraints," he said. You're rushing on the way to work and looking for a quick bite to eat, rather than something that's going to be nutritious. I'll get a sausage Mcmuffin, greasy hash browns, and some orange juice from Mcdonalds."
So even if you have to grab that quick bite, what can you get that won't rock the nutritional boat too much?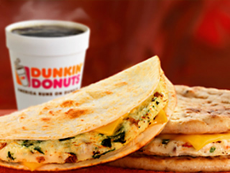 Well, Dunkin' Donuts offers an Egg White Turkey Sausage Wake-Up Wrap that's only 150 calories, 5 grams of fat, and 400 milligrams of sodium. Not the absolute healthiest, but healthier than the eatery's powdered jelly donuts. At Dunkin' Donuts consumers can also opt for the "Bacon, Egg and Cheese Wake-Up Wrap", at 210 calories and 12 grams of fat.
And who doesn't love a good ole' bagel every now and then? But one still must be selective when going to places like Einstein Bagel, as many of the bagels are high in salt, and fattier than other menu choices.
The healthiest options at this bagel chain, owned by Boston Chicken, is the Plain Thin Bagel with 140 calories, 1 gram of fat, and 240 milligrams of sodium. If you prefer a little sweet with your healthiness, Einstein's Honey Whole Wheat Bagel comes in at 140 calories, 1.5 grams of fat and 120 milligrams of sodium. Rounding out the top five of Einstein's healthiest menu items are the multi grain bread, the Everything Bagel, and the Ciabatta Bread.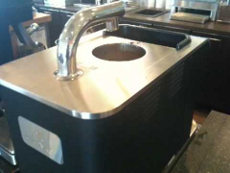 If your breakfast stop is Starbucks, as it is for millions of people, there are obviously healthier menu choices than others. Among the top five are the Clover Brewed Coffee, which has 5 calories, 0 fat, and 10 milligrams of sodium.
Starbucks, Iced Skinny Flavored Lattee comes in second among its menu items at 110 calories, 4 grams of fat and 85 milliegrams of sodium. Rounding out the top five of healthiest Starbuck menu choices are the Iced Cafe Lattee, Starbucks' Perfect Oatmeal, and the Peppermint Brownie Cake Pop.
Sit down and eat something
But let's say you're not grabbing a quick bite and you actually want to sit down and dine instead of just eat?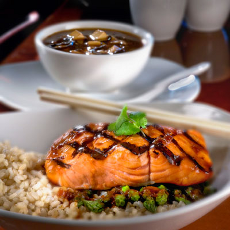 Some of the healthier menu options among popular chains like PF Chang's offer an Asian Grilled Salmon at 320 calories, 6 grams of fat and 575 milligrams of sodium. Not the lowest sodium content, but in a restaurant known for its heavily seasoned dishes and sauces, 575 of sodium per one serving isn't that bad. The Egg Drop Soup and the Hot and Sour Soup, along with the Buddha's Feast Steamed, are among the healthier ways to go at this Asian-fusion restaurant. And brown rice is always suggested over white, or the fried versions.
At the popular chain Applebee's, the healthiest food option on its menu is the 7 oz House Sirloin Steak with 250 calories, 12 grams of fat, and 860 milligrams of sodium. Many of Applebees' dishes are plagued with salt, so it'll be hard to avoid it when you eat there.
If you're really making an effort to go healthier, one should just stick with the Applebees' Weight Watchers selections, or salads. Rounding out the top menu options at Applebee's are the Trios Classic Wings, or Classic Buffalo Wings, at 360 calories, and 25 grams of total fat.
The Asiago Peppercorn Steak contains 380 calories, 14 grams of fat and 1520 millegrams of sodium. And the Roasted Garlic Sirloin at 450 calories, 18 fat, and 1910 sodium completes the best way to go at this relatively inexpensive eatery. But it'll be hard to avoid high sodium counts at this place.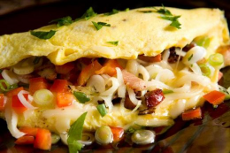 For those who like to sit down to an iHOP breakfast, the Create Your own Omelet, Plain with Egg Substitute is among the healthiest food options on the menu, at 140 calories, 4 grams of fat, and 320 milligrams of sodium.
The Simple and Fit Veggie Omelet with Fresh Fruit, is the second healthiest iHOP menu option. The low fat dish comes with 330 calories, with 10 grams of fat and 420 milligrams of sodium.
iHOP's other omelet dishes like the Simple and Fit Spinach, Mushroom and Tomato Omelet, the Turkey Omelet, and the Create Your Own Omelet, Plain with Regular Eggs, completes the top five of the pancake house's healthiest food options.
Restaurant chains are fun and relatively inexpensive to go to. And it sometimes is the perfect no-brainer when you're trying to figure out exactly where to eat. But continuing to select menu items blindly can really lead to poor health in the future, especially because we U.S. consumers like to dine out so much.
---