---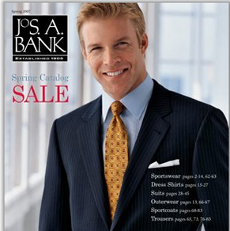 It's pretty hard to escape the ads and commercials for Jos. A. Bank Clothiers, the Brooks Brothers wannabe that's constantly running sales and claiming that this is the very last day to get, let's say, two suits for the price of one.
A couple of New Jersey consumers don't think this is fitting and have filed a class action complaint in federal court charging that the clothing chain's merchandise is "perpetually on sale and the sale price is actually the price at which the merchandise is regularly offered."
Jos. A. Bank Clothiers said in a regulatory filing that it intends to "defend this lawsuit vigorously."
The lawsuit charges that Bank's advertising "cultivates the perception that consumers are being offered a discount from the Company's regular prices when, in fact, they are not."
The plaintiffs say they bought suits and shirts thinking they were getting a special deal only to find that the same merchandise was offered at the same price after the supposed sale had ended.
"Plaintiffs and the Class would not have purchased Jos. A. Bank merchandise, or would have paid significantly less for the merchandise, if Jos. A. Bank had not represented that the merchandise had a 'regular price' that was well above the 'sale' price," the suit charges. "As a result, Jos. A. Bank has handsomely profited from its misrepresentations to the detriment of Plaintiffs and the Class ..."



---