---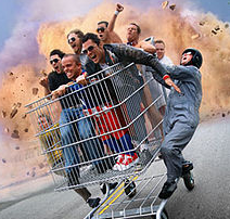 The next time your teenager leaves the house and you tell them no drinking and no texting while driving, you might want to add "no car-surfing."
Most popular with teenage males, the sport involves clinging to the exterior of a speeding car. Inspired by movies like "Jackass" and videos posted to YouTube, this dangerous fad is leading to more car injuries and deaths.
"Young people believe they are invincible but several seconds of thoughtless, risky behavior can lead to a lifetime of permanent disability or even death," said Thomas Esposito, MD, chief of the Division of Trauma, Surgical Critical Care and Burns in the Department of Surgery at Loyola University Medical Center.
Sees the results
Esposito knows the subject all too well. Loyola is the only Level 1 trauma center which has been verified by the American College of Surgeons in Illinois and regularly cares for patients who have been involved in car crashes and sustain complicated injuries.
National statistics, meanwhile, have shown a steady rise in car surfing fatalities. According to the Centers for Disease Control and Prevention (CDC), since 1990, at least 99 people died or sustained serious injuries as a result of car surfing.
"Broken bones and road rash – severe skin abrasions caused by impact from a fall – are minor injuries from car-surfing," said Esposito. "Head injuries are very prevalent and the effects are devastating."
Influence of social media
Car crashes are the leading cause of death among teenagers in the United States and car-surfing just makes the highway that much more dangerous for young people. Esposito says it's no accident that the trend has coincided with media depictions of the activity in movies, video games and in social media.
"For those desiring their five minutes of fame, social media such as YouTube and Facebook offer perceived fame and instant gratification," said Esposito. "Replicating a dangerous stunt and capturing it with a cellphone may seem like a cool idea but can have serious long-term consequences."
According to the CDC report, Males are more likely to car surf than females and the average age of persons injured as a result of car surfing is 17.6 years. Injuries have been reported in 31 states, with a regional pattern detected with 39 percent from the Midwest and 35 percent from the South.
Risky business
Esposito notes that one of the key risks is sudden, unanticipated car maneuvers such as accelerating, swerving or braking, that can force a car surfer off of the vehicle.
"People who fall off a moving vehicle may suffer brain contusions, broken bones, fractured skulls, loss of consciousness, internal bleeding, paralysis and death," he said. "Car surfing is a dangerous game with stakes that are too high if you lose."
---