---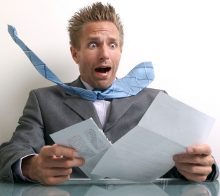 Using your cell phone when you leave U.S. borders can be expensive. ConsumerAffairs has received many complaints from consumers over the years who encountered "bill shock" on their return from a trip.
Now, AT&T Wireless says it is introducing new international roaming packages it says will do away with bill shock. Beginning June 1, the updated packages allow customers to enjoy the convenience of data access on their AT&T device while traveling abroad in more than 130 countries at a significant cost savings.
In April, the Federal Communications Commission (FCC) launched a bill shock Web site, alerting consumers to the charges imposed by various carriers.
AT&T's new international data package tiers are:
120 MB Data Global Add-on package for $30/month
300 MB Data Global Add-on package for $60/month
800 MB Data Global Add-on package for $120/month
The overage rate for all packages is $30 for 120MB.
The company said the three international data packages are designed to give customers the freedom and flexibility to use their smartphone, tablet or laptop to stay in touch when they travel without incurring hundreds, or even thousands of dollars in roaming charges.
All the comforts of home
"We want our customers to experience the same level of wireless connectivity while traveling abroad as they do at home," said Mark Collins, senior vice president, Data and Voice Products, AT&T Mobility and Consumer Markets. "Whether they choose to surf the Internet, use GPS on their device, respond to emails, or update their social network status, we are making it more affordable than ever for them to enjoy data services internationally."
AT&T already operates voice service in more than 225 countries. The company said its customers can travel around the world and make and receive calls on the same wireless number they use at home.
Before traveling outside the U.S., AT&T suggests visiting an AT&T store to determine if your wireless device will work in the country you are visiting. For example, to roam in Japan or South Korea, a 3G device that operates at 2100 MHz is required.
Also, verify that international roaming service is activated or, if you prefer, blocked.
---