---
If you think about it, many people don't just have one electronic device nowadays. Between their laptop, mobile device, and smartphone, many people are walking, breathing, gadget conventions.
And let's say a consumer has preference for devices that come from different companies. Or, the gadgets that they like all use different carriers. One could be multi-billed for each electronic. This is where the Asus PadFone comes in. (Yes, it does sound like something you'd order in a Thai restaurant but, trust us, it's not edible).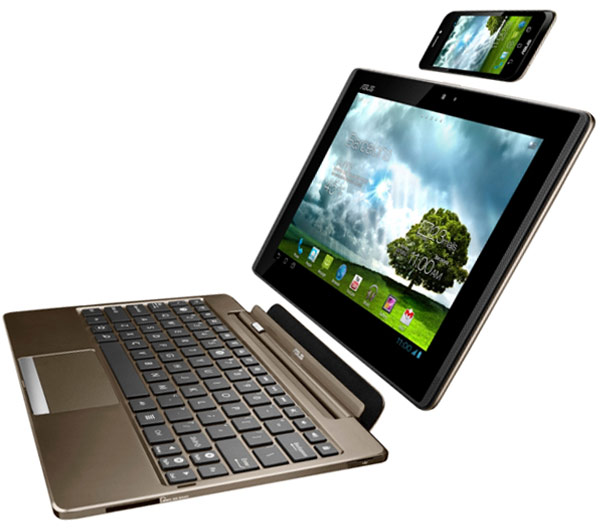 The idea of combining two separate conveniences is sort of a trend in modern technology. With hybrid cars, DVD/Internet video players and washer-dryer combos, consumers are getting used to the idea of getting two combined technologies for the price of one.
The Asus PadFone is both a smartphone and tablet together. The smartphone slips into a back compartment of a display screen, and turns the basic control panel into a tablet. The user can also attach the tablet onto a docking station, and use it like a computer or laptop, complete with a real keyboard.
The system is only available in Taiwan for the moment, but those interested can go online and purchase the display panel and the smartphone for $859.50, without the docking station. However, the website shows the product is currently on back order.
Who knows when?
ConsumerAffairs phoned the Asus company to get an idea if the device will be available in the United States anytime soon. After being shuffled from department to department, a representative said they had no specific date as to when the PadFone would sail to U.S. shores.
It would be safe to believe that the company does have a date in mind, and knows exactly when the device will be rolled out, but is keeping mum in the interest of making a grand announcement.
The good news for interested consumers is that AT&T just signed on to be Asus' first official U.S. carrier, which makes a U.S. launch seem like it will happen sooner than later. Also, the fact that the PadFone is being released in Australia this July provides more hope for those who want to get their hands on the innovative yet pricey device.
Or is is pricey? Since it combines the functions of a smartphone, tablet and laptop and uses only a single data feed, the PadFone could be a bargain for those who make full use of it.
Not everyone's a fan
Regardless, there is a definite contingent of gadget users that won't share the same type of anticipation for the PadFone's release, as many Asus customers encountered troubling experiences with the Taiwan-based electronics company.
Take Denise of Minnesota, for example, who received an installation from Asus, only to have that installation infect her computer.
"They sabotaged my computer!" she wrote. "Asus installed 'Fancy Start' that is supposed to speed things up. Instead, I was not able to open my files or create a document. After a few calls to tech support and attempts to fix the problem, I was instructed using F9 to wipe everything off my computer.
"Hours of time and frustration," she added, "and I have lost everything from when I purchased it a year ago, thanks to what the manufacturer sent to my computer.
Other Asus users have complained that although the Taiwanese company does have some decent products, laptops and mobile devices may not be its specialty. Some customers said Asus makes its laptops unable to properly cool down after heating, and many have reported their computers shutting down with malfunctions within the first year or two of buying it.
Some ConsumerAffairs readers have also noted that Asus can use a bit of improvement in the area of customer service.
"Asus computers -- a lot of big talk and promises before the sale, but nothing behind the talk. Don't buy one," wrote Chris of Springdale, Utah. "I've owned Dell, Toshiba, HP and Sony and all give customer satisfaction when it comes to repairs. With Ausus, the support is not there. My computer was sent to the wrong repair center and placed on a shelf for two weeks. If I not called as to its status, it would still be there."
We'll see if Asus makes some improvements as it continues to roll out its PadFone.
In actuality, the PadFone could have been going through a number of tweaks already, as Asus, has been talking about the device for quite some time. The company has already missed a few scheduled rollouts, but is now hoping to make a ripple in the mobile device waters that Apple and Samsung currently control.
Although Apple or Samsung haven't announced any plans for releasing a similar product, it's safe to assume designs are already in the making, so these two companies can maintain its global hold on the gadget industry.
But back to the PadFone. It's about 4.3 inches in length, has an eight-megapixel AF camera with LED flash, an the company says the device is scratch and crack resistant and should remain intact when dropped.
With no definitive dates in site for the PadFone, consumers can take the time to think if they'd like to combine a few of their technologies, or keep their gadgets just like they are. Plentiful.
---