---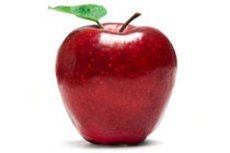 You like fruit? See how you feel after reading this:
Some 98 percent of conventional apples have detectable levels of pesticides.
Domestic blueberries tested positive for 42 different pesticide residues.
Seventy-eight different pesticides were found on lettuce samples.
Every single nectarine USDA tested had measurable pesticide residues.
Grapes have more types of pesticides than any other fruit, with 64 different chemicals.
Thirteen different pesticides were measured on a single sample each of celery and strawberries.
These are among the findings of the eighth edition of the Shopper's Guide to Pesticides in Produce, published annually by the Environmental Working Group, this year with updated information on 45 popular fruits and vegetables and their total pesticide loads.
"The explosive growth in market share for organic produce in recent years testifies to a simple fact that pesticide companies and the farmers who use their products just can't seem to grasp: people don't like to eat food contaminated by pesticides," said EWG president Ken Cook. "Our shopper's guide to pesticides in produce gives consumers easy, affordable ways to eat a diet rich in fruits and vegetables while avoiding most of the bug killers, fungicides and other chemicals in produce and other foods."
"This year's guide will also give new parents pause," Cook added. "Government scientists have found disturbing concentrations of pesticides in some baby foods. And the U.S. Department of Agriculture has found weed killers widespread in finished tap water. Environmentalists have had important successes in forcing pesticides that presented unacceptably high dietary risks off the market. The latest USDA tests show we have much more work to do."
Pesticides in baby food
For the first time since the inception of its pesticide testing program in 1991, USDA looked at pesticide residues on baby food. Department scientists analyzed about 190 samples each of prepared baby food consisting of green beans, pears and sweet potatoes.
Green beans prepared as baby food tested positive for five pesticides, among them, the organophosphate methamidiphos, which was found on 9.4 percent of samples, and the organophosphate acephate, on 7.8 percent of samples. EWG analyzed baby food samples in 1995 and found the two organophosphates in surprisingly similar concentrations.
Pears prepared as baby food showed significant and widespread contamination. Fully 92 percent of the pear samples tested positive for at least one pesticide residue, with 26 percent of samples containing 5 or more pesticides and 15 different pesticides on all samples.
Disturbingly, the pesticide iprodione, which EPA has categorized as a probable human carcinogen, was detected on three baby food pear samples. Iprodione is not registered with the EPA for use on pears. Its presence on this popular baby food constitutes a violation of FDA regulations and the federal Food, Drug, and Cosmetic Act.
"Federal testing of pesticide residue in baby food was long overdue, as infants are especially vulnerable to toxic compounds," said Andrew Weil, MD, Founder and Director, Arizona Center for Integrative Medicine and a renowned medical expert on natural health and wellness. "Now that it has begun, the results are highly disturbing."
Sweet potatoes sold as baby food had virtually no detectable pesticide residues.
---