---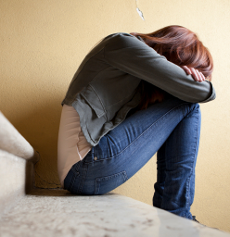 Many teenagers suffer from emotional issues, and many parents can't tell if it's due to clinical depression or normal teen growing pains. Let's face it, it's almost a teen's job to go through emotional ups and downs while figuring out who they are, and what their place in the world is.
Soon parents will be able to take their child in for a simple blood test that will be able to determine if their teen is actually depressed or just suffering from a temporary case of the blues.
According to recent statistics, nearly 20 percent of teens will experience depression before they reach adulthood, and between 10 to 15 percent will show symptoms of depression at some point during adolescence. Additionally, 20 to 40 percent of teenagers will have more than one episode of depression within the next two years, and 70 percent will have more than one episode before reaching adulthood.
Genetic markers
In a recent pilot study conducted by Northwestern University, scientists showed that teenage depression can be diagnosed by the use of 11 genetic markers. Experts say the new test can differentiate between varying types of depression, so doctors can provide a more personalized level of treatment. This of course differs from traditional diagnosis tests, where patients simply tell doctors of on-going symptoms.
"Right now depression is treated with a blunt instrument," said Dr. Eva Redei, professor of psychiatry at Northwestern University Fenberg School of Medicine. "It's like treating type 1 diabetes and type 2 diabetes exactly the same way. We need to do better."
Researchers also say the blood test works effectively in both teens and adults, and is the first to identify sub-areas of depression. The test can classify whether a patient is suffering from major depression, or if their depression is also combined with an anxiety disorder.
Redei and her team of researchers conducted tests for 26 genetic blood markers that were identified in earlier research. The team confirmed that 11 of the markers were able to distinguish between depressed and non-depressed teens. Also, 18 of the 26 markers identified patients that only suffered from depression, or from depression with a mixture of anxiety.
"These 11 genes are probably the tip of the iceberg because depression is a complex illness," Redei said. "But it's an entree into a much bigger phenomenon that has to be explored. It clearly indicates we can diagnose from blood and create a blood diagnosis test for depression."
In a separate study conducted by UT Southwestern Medical Center in Dallas, TX, researches found that blood testing can also better determine the type of medicine that would best suit patients.
---