---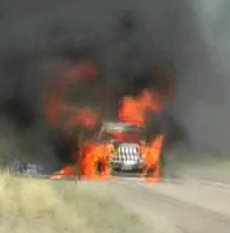 More than two years after a 69-page petition from the Center for Auto Safety (CAS) spelled out the problem, federal safety regulators are expanding their probe into gas-tank fires involving Jeeps, blamed for at least 270 fatalities.
The investigation had previously centered on 1993-2004 model Jeep Grand Cherokees but has now been expanded to include 1993-2001 Jeep Cherokees and 2002-2007 Jeep Liberty models, the National Highway Transportation Safety Administration (NHTSA) said.
"The tragic question is how many more fatal fire crashes will it take before Chrysler recalls this Pinto for soccer moms," said Clarence M. Ditlow, the executive director of the CAS, a Ralph Nader-founded non-profit organization, in a November 17, 2011, letter to Chrysler Group LLC Chairman Sergio Marchionne.
"The known toll now stands at 185 fatal fire crashes with 270 deaths and numerous burn injuries," Ditlow said.
Behind the axle
The Jeeps involved in the probe all have their fuel tanks installed behind the rear axle, which could make them more likely to burst into flames following a rear-end collision. Fuel tanks in newer Jeeps are located ahead of the rear axle, a change that Chrysler Group LLC insists was made for design reasons, not because of safety concerns.
"The 1993-04 Grand Cherokee has a fatal crash fire occurrence rate that is about four times higher than SUVs made by other companies," Ditlow said in his October 2, 2009 petition to NHTSA asking for an immediate safety recall. "Comparing the 1993-04 Grand Cherokee with the exposed rear fuel tank to the 2005 and later Grand Cherokee with the shielded fuel tank in front of rear axle in the first five years of use for both vehicles so that it's an apples to apples comparison, the defective old Grand Cherokee has a fatal fire rate six times higher than the new Grand Cherokee."
The expanded review is the final step in NHTSA's process of determining whether a recall will be required. A recall could affect up to 5.1 million Jeeps.
Flaming Fords
Other manufacturers, most notably Ford, have experienced similar problems with fuel tanks mounted behind the rear axle. Ford faced numerous lawsuits because of fires in Crown Victoria sedans equipped as police cars and taxis. At least 14 law enforcement officers died in Crown Victoria fuel-fed fires after being rear-ended at high speeds, one lawsuit claimed.
The Jeep design is eerily similar to the fire-prone Ford police cars.
"The fuel tank of the Grand Cherokee is plastic and extends below the rear bumper so there is nothing to protect the tank from a direct hit in a rollover or by a vehicle with a low front profile or one lowered by pre-impact braking," the CAS petition said.
"The design is so bad that Chrysler frequently settles lawsuits without extensive discovery and subject to confidentiality agreements. A search of NHTSA's FARS files for fatal fire crashes where there was a fire occurrence in a 1993-2004 Jeep Grand Cherokee from calendar year 1992 through 2008 found 172 fatal fire crashes with 254 fatalities," the 2009 CAS petition alleged, noting that, by comparison, the infamous Ford Pinto -- another ill-fated Ford model with a behind-the-axle fuel tank -- was implicated in only 26 fire deaths.
"The fuel system in the 1993-04 Grand Cherokee is defectively designed in that it contains a plastic fuel tank subject to rupture, degrades in performance over time, a fuel filler neck that tears off in a range of crashes, a hostile environment with sharp objects such as suspension bolts that can puncture the tank, extends below the bumper and is unshielded although Chrysler offers a optional 3/16-inch steel shield as a 'skid plate' for off road use which would protect the tank in rear impacts where there is pre-crash braking of the striking vehicle," the 2009 CAS petition continued.
Mercedes takes action
The petition notes that Jeep took no action until Chrysler merged with Mercedes. DaimlerChrysler then moved the fuel tank in board of the rear axle in 2005 and shielded it. "Since the relocation of the fuel tank in 2005 and later Grand Cherokees, there has only been one fatal fire crash in the redesigned vehicle. And that fire occurred after both occupants had been ejected in a rollover of a 2008 Grand Cherokee so that the deaths were not caused by fire," CAS said.
In its 69-page petition, CAS cites several court cases that, unlike most, were not blocked from public view. Auto manufacturers frequently settle fatal injury cases on the condition that the case is "sealed," protecting the company from bad publicity and making it impossible for consumers to know whether they are driving a vehicle with known safety hazards.
One case cited by CAS involved a crash on New York's Long Island on September 1, 1999, when a stopped 1997 Grand Cherokee was struck from behind by a braking Toyota MR2. Two sisters in the back of the Grand Cherokee were severely burned when they could not get out of the Jeep due to jammed doors. The driver of the MR2, a gardener, was fatally burned as he was enveloped by the burning fuel from the ruptured tank of the Grand Cherokee, CAS said.
Another crash occurred in New Jersey, when a a 1996 Grand Cherokee was struck from behind by a 2004 Toyota Sienna. The doors on the Jeep jammed in the impact. The driver climbed from the driver side to the passenger side trying to get out of the burning vehicle but was unsuccessful. Her skeletal body was found in the passenger seat.
CAS said in its petition that those two cases "both demonstrate the unique hazards of an unshielded tank extending below the rear bumper where it can be engaged by the lowered front of a striking vehicle and shoved up into the structure of the vehicle above the tank and ruptured."
And CAS said the low-hanging, exposed fuel tank of the 1993-04 Grand Cherokee is also particularly vulnerable in rollover crashes where it can strike fixed objects as it rolls.
Although quick to settle some cases, Chrysler has tried to escape liability for future Grand Cherokee crashes which occurred after Chrysler went through bankruptcy in cases where the vehicle was sold before the bankruptcy.
---