---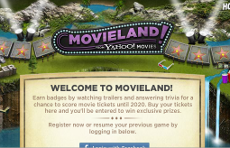 Here's a rather innovative way for studios to let you know about the up and coming summer movie releases: Yahoo has recently launched "Movieland", an interactive online game promoting 35 soon-to-be-released big budget films.
All of the major movie studios, along with the California-based Internet company, have created a virtual board game kind of like Monopoly, where each square represents a different summer release. By playing the digital game, moviegoers can win movie prizes, see new trailers and purchase tickets.
"The company hopes the game will encourage repeat visits as users compete with one another and share their achievements on social networks," said Ken Fuchs, vice president and head of sports, entertainment and games at Yahoo Media Network. "It sucks people into an experience," he said.
All of this is an effort by Yahoo to market the Yahoo Movies site, which already reaches millions of consumers each month. And film studios like Universal are equally excited, as Hollywood studios never desire to leave any stone unturned when it comes to promoting and selling one of its films.
Debuting earlier this week, the game already has trailers for such summer releases as, "Snow White and the Huntsman," the next Batman epic "Dark Shadows", and the Jennifer Lopez release "What to Expect When You're Expecting."
Immersive and engaging
In a statement to a West Coast media outlet, senior vice president of digital marketing at Universal said "We have seen interactive experiences that have a game structure to them to be more immersive and engaging relative to the exposure to our films," he explained. "Movieland is a great way to drive people into a more organic conversation around our film.
Movie consumers can also compete with other online players and win exclusive badges for all types of movie going perks, and also win other items by answering certain trivia questions. But the ultimate prize is winning a movie badge that gives the customer free movie tickets until the year 2020. That's a pretty nice prize considering what a movie ticket will run you these days.
Players of the game can also see critic reviews, subscribe to Yahoo's movie newsletter and see exactly where certain films are playing.
But, will simply playing a board game really drive consumers to the movie theater more often? Both Yahoo and film studios may be disappointed about how successful this new venture is, as consumers have been going to the movies less now than ever.
This could be attributed to movies being released on DVD practically weeks after the theater release, or consumers cutting back on their entertainment spending. Or, it could be due to consumers having new computer games to be entertained by like this one.
We'll see if the movie studios and Yahoo actually see an impact on summer movie sales as a result of its newly created board-game.
---