---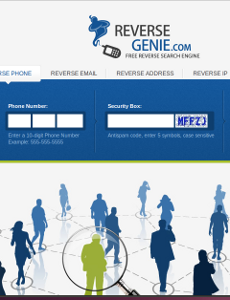 It's really annoying when we miss an unfamiliar phone call. It's even more annoying when the person on the other end actually reaches us, but then tries to sell us something or want us to fill out some sort of survey. Who are these people (in my best Jerry Seinfeld voice)? Where are they calling from? And how can I track this information?
The ReverseGenie App claims to be able to answer these questions for you, by allowing users to conduct a reverse phone search from their Android or iPhone. By using the application, annoyed call recipients can quickly try to learn the caller's name, email address, and cell phone number. They can also receive free unlimited reverse email searches with links to the caller's Facebook profile. The app also comes with a free caller ID.
In the past, smartphone users would have to wait until they're in front of their lap or desktop to conduct reverse searches, but now they can download the app directly onto their mobile device and pull the wanted details of those obscure and unwanted calls.
The new application works by users entering the phone number of the person they're searching for, or by simply selecting a number from their call history to pull up more background information. Those interested can download the app for free and it comes with unlimited use.
Users can also immediately see their recent calls, click an address to get directions from Google Maps, and keep up to date information in their phone records with real-time updates.
After reverse search provides a name of someone calling your phone, ReverseGenie.com can pull additional information on that person such as their IP address, gender, service provider, and physical address. It's like bothered callers now have their own private investigator living inside their phone.
Although only recently released to the public, the app has gotten really positive reviews from both Android and iPhone users, and has been widely preferred over other caller ID applications. So prank callers, telemarketers, and creepy people beware. The people have been armed with a needed and timely bit of technology.
How well does it work?
But really, glowing user reviews aside, how well does this little tool work? The meanies in the ConsumerAffairs backroom mashed on it a bit to find out. Here's their report:
It works about as well as you'd expect, namely not very well, since it's based on records that are incomplete, often incorrect and sometimes misleading by design.

First we inserted our own cell phone number -- 213-500-xxxx -- and got the astonishing information that it was registered to <name unknown> and that it was a number issued by Verizon in Los Angeles. OK, no surprise there.

Next, we entered a landline phone number from our DC-area office -- 703-359-xxxx. It came up with three listings. One was spot-on, with the correct name, street address, etc. The other two were completely inaccurate. They were identical and each was a name we'd never heard of at an address in an office park a few blocks away. Maybe it was someone who'd had the number before us?

Next we entered one of our Google numbers -- 213-915-xxxx. Reverse Genie pinned it down to Los Angeles but that was all the genie could discern.

So much for phone numbers. We next inserted an email address (yes, it will look up emails too): xxx.xxxx@gmail.com and got the startling answer that the address was registered to Google in Mountain View, Calif.

Next we entered a corporate email address that we know to be a DC company. Genie slithered out of his or her lamp and informed us the name was unavailable but confidently asserted the address was registered to InMotion Hosting in Santa Monica, Calif.

Hmmmm ... so, Genie was batting about 20 percent on this outing. If you look carefully, it's obvious Genie is not just providing information, it's also gathering it. Each time you ask for information on a number or email address, it gives you what it has then asks you to contribute what you know, including whether the call or email was spam. This could be a helpful way to build a database if everyone gave honest and correct answers. Otherwise, it's just another bulging mass of digits that don't add up to much.
---