---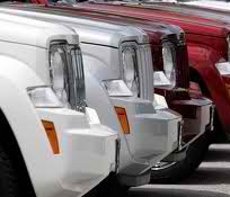 When you shop for a new car, dealers and manufacturers usually try to draw you into their showrooms with incentives, like cash rebates and low-cost financing.
But if you're shopping for a new car this spring, you'll probably find fewer of these enticements. The reason? With car sales at a very healthy rate, dealers and manufacturers feel that don't have to compete as hard.
In fact, Edmunds.com reports incentive spending on new car sales in April hit its lowest level in almost seven years. It found that the average True Cost of Incentives (TCISM) per vehicle in April was $2,071, the lowest average spent since automakers spent an average of $1,962 in October 2005.
April's average TCISM is down 2.2 percent from March, and down 1.8 percent from April of last year.
Little pressure to deal
"This is the clearest indication yet that consumer motivation is high and that automakers feel little pressure to rely on incentives in order to keep sales churning," said Edmunds.com Senior Analyst Jessica Caldwell. "We'll likely see incentives linger at these low levels until auto sales ease off the torrid pace we've seen so far in 2012."
Lower incentives mean car-buyers must put up more of their own cash as a down payment and be able to afford slightly higher payments, accepting prevailing market interest rates instead of "incentive" rates.
Edmunds reports the most notable shift in spending among the Big Six automakers came from Nissan, whose spending fell 13.0 percent month over month and even as it rose 16.3 percent year over year. Ford was the only other major manufacturer to drop its incentive spending in April. Its average TCISM per vehicle fell 12.6 percent month to month, but ticked up 0.8 percent year over year.
Harder to find incentives on fuel-efficient cars
When consumers are finding good incentive packages, they tend to be for vehicles with lower fuel efficiency ratings. In other words, the incentives tend to be on vehicles the dealers have the most trouble selling.
The large car segment, for example, offered the highest discounts, on average, at 13.2 percent off MSRP, which was up from 12.2 percent off MSRP in March. Dealers, however, kept a tighter incentives grip on smaller fuel-efficient vehicles.
According to Edmunds, the discount on subcompact vehicles was 2.2 percent off MSRP in April, down from an average of 2.5 percent in March. And the discount off compact cars in April fell to 4.5 percent off MSRP in April, down from 5.2 percent in March.
---