---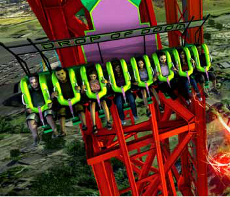 Drop of Doom
It's always a bit baffling when someone says they dislike summer. Not liking the heat or being hot is logical. But to dismiss an entire season, especially for one with chilly temperatures, brisk winds and annoying snow is sheer lunacy to those who love the summer time.
But, whether you love or hate summer, no one can argue that summer time is perfect for family activities, and getting everyone in the car and heading to the nearest amusement park is still high on the activity list.
Pretty much wherever you are in the U.S., you'll be able to find quite the array of brand new coaster and newly opened water parks. SeaWorld in San Antonio, Texas just opened a water park within its already popular theme park, and Legoland Florida also opened a wet park equipped with the newest and scariest of water rides and wave pools.
Winged coaster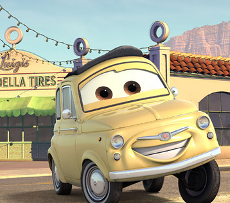 Radiator Springs
But most go to amusement parks for the monster coasters, and this year there isn't a shortage of them. In Gatlinburg, Tenn, Dollywood introduces the the Wild Eagle. A "winged coaster" that has riders dangling in rows on either side of the track.
Another coaster of the same kind, X-Flight, at Six Flags Great America in the Chicago suburbs, has the same type of I-dare-you-to-get-on-look. And Hershey Park in Hershey Park, Pa, unveils Skyrush. Another coaster of the winged variety that promises to produce tears, whether from joy or terror.
Roller Coasters aren't the only way to lose your breakfast in a thrill park. Six Flags Magic Mountain, outside of Los Angeles, assembled what it call the world's tallest vertical free-fall ride, LexLuthor Drop of Doom.
And what would an amusement park discussion be without mentioning the granddaddy of theme parks -- Disney? Practically the inventors of family entertainment, the folks at Disney have designed two separate areas known as Cars Land, and Radiator Springs, based on the two Pixar movies. The Walt Disney company is banking on the newly developed attractions to do for Disneyland, what Epcot did for Disney World in Florida years ago.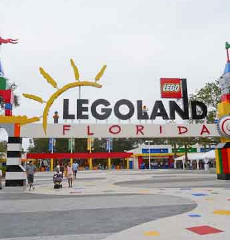 Legoland
Most noticeable of these two new Disneyland additions is Radiator Springs Racers. Part bumper car ride, part roller coaster, it promises to be a welcomed addition to a theme park that has seen lower guests numbers in recent summers.
Whether on the west or east coast or in-between, families will have their pick of many new and very interesting rides this summer. But hurry up because the summer months are extremely fleeting, and before you know it, it will be deeply missed. Even by those who prefer that other ghastly season -- Winter.
---