---
With all of the white earphones attached to the average person's ear nowadays, it's easy to forget that we can actually listen to music outwardly. Remember speakers?
Well if you do, you've probably also noticed that music speakers have changed over the years. In days past, getting the biggest speakers was the ultimate goal. I mean sound isn't sound unless every living soul is forced to take in your musical taste, right? But today the consumer's usual goal is to get the smallest, and most portable speaker they can find.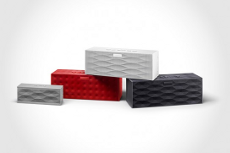 Which brings us to the Jawbone Big Jambox, which like a Bose speaker, is tiny and wireless, only weighing 2.7 pounds, but packs a pretty decent musical wallop. The speakers are a second generation version of the original design, and typically used to fill outside or large open spaces craving to be filled with notes and melody.
Although it matches the loudness and portability of a Bose speaker, early reviews suggest it doesn't match the popular speaker's level of sound clarity, although it does match Bose's price of $299. However, few things are as subjective as a person's sound preference.
Jewel box
Resembling the size of small jewelry box, the JawBone speaker also has a 15-hour battery life, which should outlast any party or get-together no matter how many beers one plans to have. The speakers also have the ability to connect two separate devices simultaneously. Meaning you may not be able to hog the musical selection at the party, as one of your buddies can plug in mp3 player too.
With the Bose SoundLink Wireless Mobile Speaker also being $299, the Jawbone comes across as a slightly better buy with the extended battery life. But use over long periods of time will be the ultimate tester, as any product that lasts merely a year or two before it starts acting weird, isn't worth the dollars plunked down on it.
Like its original model, the Jambox speaker has a simple design and comes in many colors including black, red and white. It also plays louder than the original version, and plays music from from your device by way of a wireless Bluetooth signal. The Jawbone also plays at a 35 foot maximum distance.
Whether one should go with a Bose portable speaker or the Jawbone Big Jambox is really a matter of very specific preference, as both speakers are highly reviewed. But it's always nice to have more purchasing options. Moral of this story: Listen before you buy.
---