---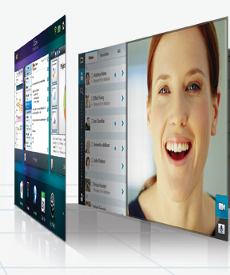 The Canadian-based company Research in Motion (RIM) has seen better days.
In recent months, the multinational telecommunications company has lost partnerships and endured plummeting stock prices, so obviously the company has been quite eager to showcase a new product to strengthen its public perception, which brings us to the BlackBerry 10. The new device that was recently introduced at the company's annual BlackBerry World convention.
The BlackBerry 10 is expected to directly compete with Apple's iOS, as well as the Android. The difference is that users will be guided by several windows divided into sections, or panes, instead of icons.
This may be the beginning of the end for the BlackBerry keyboard, as touchscreen competitors have made phone keyboards seem dated and hard to use, but company CEO ThorstenHeins did say that the company will still produce devices with keyboards in the future for those with large thumbs or a taste for the tactile.
Hopefully those future phones won't look anything like the old BlackBerry keyboards, as the BlackBerry 7 feels extremely clunky and and outdated, and doesn't have the sleekness and light weight of its successful competitors.
Screens
The Home screen will contain specific tabs for application shortcuts that will display information in real time, similar to the Android widgets. The panes will also allow you to navigate freely from task to task, without having to close one application before opening another.
"No one has time to pop in and out of applications every time they want to change an application," Heins said in a statement. "We want to use a paradigm that is easy and fast. It's all about the flow."
Another useful feature will be the phone's ability to tailor itself to each individual user. For example, the virtual keyboard will adjust to the user's particular typing style, and it will also pre-populate words that it believes you're trying to convey.
RIM as a whole has been trying to establish a new niche of customers that probably wouldn't use the iPhone or Android. The company is focusing on the business community, as well as small business owners to better associate Blackberry with serious business use, as opposed to something toy-like or playful like its colorful competitors. Hence their recent slogan, "We need tools not toys."
It's kind of crunch time for RIM, and its latest Florida convention was of great importance to rally the company's troops as well as its investors. Although RIM is selling relatively well in Asia, the company's market share has gone down considerably in the United States, continuing to go down another 5 percent as of yesterday.
---