---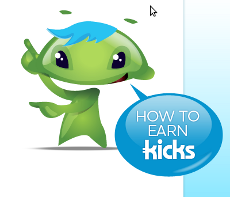 Showrooming, where a customers goes to a brick-and-mortar-store to view an item before purchasing it online, has been the new way to shop for many of today's consumers. Customers will typically scan an item with their smartphone to buy it later online.
In response, many retailers have gone to painstaking efforts to get consumers to purchase items in stores, as opposed to on Amazon, for example. But now Target is actually encouraging customers to use their smartphones to scan its products before buying them.
Target this week introduced the Shopkick app, where shoppers can scan an item's barcode to build up "kicks", which are points that can later be traded in for gift cards, or free downloads from iTunes. The rewards program is already used by other retailers including CVS, Old Navy and Best Buy, and the app is free to download.
Like any loyalty program, the more points you accumulate the higher the perk. For instance, 500 points or kicks will earn you a $2 Target gift card, $1,250 kicks will score you a $5 Starbucks gift card, and 8,750 kicks will get you a $15 Papa John's gift card or movie tickets from Fandango. Not life-changing perks, but still nice to get by simply doing a two-second phone scan.
But, does the fact that Target wants you to scan an item instead of buying it sound fishy at all? Well it should, because the main purpose of Target and other retailers for joining this program is to keep you in stores longer, and have you visit more frequently. Target figures if you're rewarded for simply coming to a store to scan, you may even purchase something on the spot. Call it retail-reverse-psychology.
Target joined Shopkick back in November of 2010, introducing the program in 242 of its stores, but now it's being rolled out to all of its 1,764 U.S. locations, making Target the largest retailer to partner with Shopkick.
"We've learned from our guests that they appreciate being rewarded for doing what they already love to do — shopping at Target," said Bonnie Gross, Target vice president of marketing and guest engagement, in a statement. "In our test launch, Target guests in seven cities had the opportunity to experience Shopkick at Target and we received rave reviews. Now guests nationwide can start earning valuable points just by shopping our stores."
---