---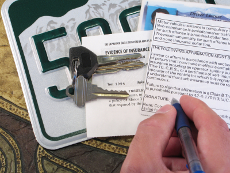 Fewer consumers are shopping for auto insurance, but of those who do, 43 percent switched from one insurance company to another in the last 12 months, according to J.D. Power and Associates.
It's the largest number of consumers ditching one company for another since the survey began in 2008.
"Although fewer consumers are shopping for insurance, more current customers who do are willing to make a switch based on competitive quotes," said Jeremy Bowler, senior director of the global insurance practice at J.D. Power and Associates.
Bowler also notes that more consumers are switching insurance companies, even though savings achieved through switching had declined. Bowler says consumers saved on average $412 per year by switching in 2010 but only $359 in the last 12 months.
Money isn't everything
Sometimes, there are other reasons besides saving money for switching insurance companies. In a ConsumerAffairs post, Moranda, from Louisiana, says she's dropping Progressive.
"Disrespectful, inconsiderate, unprofessional, and hard to get in touch with," she wrote.
Charity, of Pasadena, Tex., says she's dropping State Farm over a dispute about towing reimbursement, which she said was covered in her policy.
"I called State Farm and they sent a tow truck, and told me they would reimburse me," Charity wrote in a ConsumerAffairs post. Inconvenient, but whatever. I called my agent to find out the proper protocol to get reimbursed for the wrecker. I was told they would only pay for up to $80 on towing."
Targeting the competition
Bowler also notes that insurance companies have increased advertising spending in an effort to attract customers from the competition.
The study finds that 52 percent of auto insurance shoppers start their shopping process online, and 73 percent visit at least one insurer's Web site at some point during their shopping experience. More significantly, 32 percent of customers solely obtained quotes online, and today 34 percent of all recent shoppers state they would most prefer to purchase their new policy online.
The study, now in its sixth year, examines consumer shopping and purchasing behaviors and overall satisfaction among buyers who recently purchased insurance across three factors (in order of importance): distribution channel; policy offerings; and price.
Another recent J.D. Power survey found that overall consumer satisfaction with their insurance company declined sharply in the last three quarters.
---