---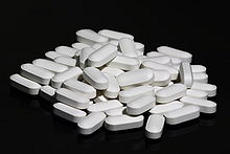 Some people, especially women, take daily calcium supplement tablets to guard against bone loss. But new research suggests doing so doubles the chances of suffering a heart attack.
The study, which included 24,000 people age 35 to 64, is reported in the medical journal Heart. The authors, while noting that calcium is important, suggested they believe consumers should ingest it naturally.
"We should return to seeing calcium as an important component of a balanced diet," they wrote.
Although the study did not find a direct cause and effect between the use of supplements and heart attacks, the researchers speculate that taking supplements in tablet form provides too much of the mineral to the body at one time.
Industry responds
Taylor C. Wallace, Ph.D., Senior Director, Scientific & Regulatory Affairs at the Council for Responsible Nutrition, the supplement industry trade group, said previous research has shown positive effects on risk factors associated with heart health.
"This study itself is not reason enough to discount the important benefits of calcium, but consumers with questions—as well as their doctors—should consider these following points: The original study wasn't designed to measure cardiovascular events; consequently confounding factors for cardiovascular disease were not equally distributed across the study groups," Wallace said.
Wallace says the calcium supplement group in the new study had a population with a greater incidence of high cholesterol at baseline, and also included more smokers who were more likely to smoke for a longer duration. In terms of considering the relative risk, of the 851 individuals taking supplements containing calcium, only seven events occurred in users of supplements containing only calcium.
Does benefit outweigh risk for elderly?
"The bottom line is consumers need calcium, and particularly for the elderly, who are at such great risk of falls and fractures due to weak bones, removing calcium supplements from their diets could put them at even greater risk for those kinds of problems," Wallace said. "Our advice is for consumers to be aware of how much calcium they get from their diet, supplement with calcium if needed, and check with their doctor or other healthcare practitioner to determine their own personal needs."
Public health officials, meanwhile, have always counseled consumers to try to get most of their calcium needs from their diet.
"If your typical calcium intake is too low, first try to increase the calcium in your diet," the New York Department of Health says on it's website. "There are many calcium-rich foods to help you meet your calcium needs through diet alone."
According to the department, people over age 50 need 1,200 mg of calcium in their diet each day.
---