---
It's not exactly a consumer issue, except that consumers are citizens, voters and taxpayers who have a stake in the actions of their government.
So we thought it worthwhile to take a look at the reaction to President Obama's announcement this week that his thinking had evolved sufficiently to enable him to say that he now supports the right of same-sex couples to marry.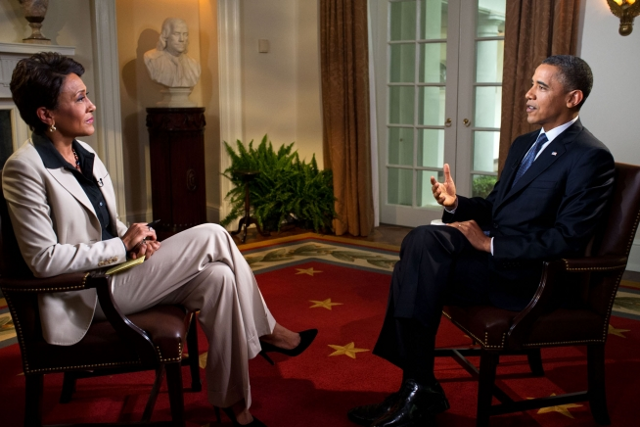 President Barack Obama participates in an interview with Robin Roberts of ABC's Good Morning America, in the Cabinet Room of the White House, May 9, 2012. (Official White House Photo by Pete Souza)
Cynics would say -- and already have, in fact -- that Obama and his advisors had been reading the tea leaves in the form of public opinion polls and had decided that public attitudes had shifted sufficiently to make Obama's move an election-year plus rather than a minus.
Whether or not the cynics are right about Obama's motivation, it does appear that public attitudes increasingly support the right of same-sex couples to marry, according to a ConsumerAffairs sentiment analysis of about 180,000 postings on Facebook, Twitter and other social media over the last year.
Whether Obama is leading the trend or following along behind may be one of those questions that can't be definitively answered. However, it's clear that positive sentiments increased sharply in the last month, going from 52% negative last month to 14% positive in May.
Religious freedom
While the issue of same-sex marriage is generally seen as an individual rights issue -- one that often pits individuals not only against secular laws but also against many churches' teachings -- some religious leaders pointed out that it is also a matter of religious freedom.
"I appreciate not only this support for gay and lesbian couples but also the support for our right as a religious community to perform marraiges for our members as our faith guides us," said the Rev. Mary Katherine Morn of the Unitarian Universalist Congregation of Fairfax, Va., (UUCF) in a Facebook posting.
"As a minister fully authorized by my state to perform weddings, I do not believe it is appropriate for the government to tell me what I should do as a religious leader. I know some ministerial colleagues who would not want the state telling them they must perform gay and lesbian weddings. I agree with that. Just as the state should not tell me I cannot," she said.
UUCF was one of the congregations represented last February as gay marriage supporters rallied at the Fairfax County Courthouse, where a same-sex couple had been denied a marriage license.
Rev. Kären Rasmussen and Barb Brehm, longtime Fairfax residents who are both retired Navy veterans and have been domestic partners for 26 years, had entered the courthouse and requested a marriage license from the Clerk's office. According to law, their request was denied.
"It's very hard to be rejected. After 26 years together, you think they'd say, 'What's the question?' " Brehm said.
Obama has now provided his answer to Brehm's question: "I think same sex couples should be able to get married," Obama said in an interview with Robin Roberts of ABC's Good Morning America.
In the interview, Obama said that he had discussed the issue around the dinner table with his wife and daughters. He said he'd heard from service members who, even after the repeal of Don't Ask, Don't Tell, felt constrained because they aren't allowed to get married. And in the end, the President said, he believes it's important to "treat others the way you would want to be treated."
---