---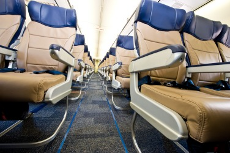 Remember when you got to choose where you were going to sit on an airliner? Now, airlines place a fee on the most desirable seats.
As a result, families traveling together don't get to sit together unless they're willing to pay extra. Sen. Charles Schumer (D-NY) says airlines that charge these fees should reconsider.
"Children need access to their parents and parents need access to their children," Schumer said. "Unnecessary airline fees shouldn't serve as a literal barrier between mother and child."
Robert, of Kingsport, Tenn., couldn't agree more. He says he and his family flew to Orlando, Fla., on Delta recently and said he was told when he bought his four tickets that his family could sit together.
"My wife and I have a 7-year old and a 5-year old," Robert wrote in a ConsumerAffairs post. "When I got my seat assignments, we were not together. I was told to call within 24 hours of flight and it would be taken care of. I called today and now am told it will be an additional $10 per ticket! My children have never flown before and may not get to now. They will be terrified if we cannot sit together and we will not go if this cannot be taken care of."
Premium seats
Some airlines, including Delta, set aside a certain number of seats on each flight for frequent fliers and passengers willing to spend more for an aisle or window seat, or a seat with more legroom.
Airlines began adding fees in 2008 when the cost of jet fuel skyrocketed. Rather than increase fares to cover the additional costs, airlines began charging a fee for a second checked bag. Then they began charging for all checked bags, as well as other things that were once provided as part of the ticket price.
Why not just raise fares? Most likely for competitive reasons. Consumers generally choose a flight based on the published fare. The Transportation Department is currently considering new rules that would provide more transparency in the actual cost of flying.
Schumer says the airlines should adopt a voluntary policy to allow families with children to sit together. Otherwise, he says the Transportation Department should adopt a rule to keep families together on a plane.
---