---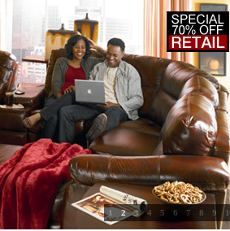 When you think of shopping online, one usually thinks of purchasing lower-cost items like books, music or inexpensive clothing, but online couch retailers like Sofas Shopping and Sofas And Sectionals have made buying furniture online somewhat normal.
But what's the best way to sell a major piece of furniture online? While one store chooses to upgrade their website for better use, the other uses product videos to close the sale.
For over five years, San Francisco-based company Sofas Shopping wwas a major player in the online furniture game, and it has just released a new website that it claims will make buying sofas online even easier than before.
Although the company is vague in the details of the new site, it says the website was intended to allow customers to feel better about buying such a personal and heavily-used product like a sofa online. The site improves the consumer's ability to choose certain details of the sofa like actual color and feel of the material by adding interactive and real-time components.
"It must be very difficult for customers to pull the trigger and spend their money on something that they can't try," said Sofas Shopping's Marketing Manager, Alex Sher.
"To compensate on that problem we analyzed the entire products we sell and took out those from online stores that had problems in the past. Also on top of that, one of the key points why sofa shoppers use us is cheapest price, unique design and fast free delivery all over the United States".
Sofas Shopping actually listened to its customer base by adjusting some of its prices. "Most of the customers prefer leather sofas but do not want to pay the price of the full leather sofa, stated Sher. "We listened and started using different materials to drop the price."
Relying on videos
The owners of Sofas And Sectionals, meanwhile, decided that videos would be the ideal accompaniment for the consumer when they're purchasing furniture over the net. In a recent survey conducted by ContentPing.com, over 14,000 consumers said that product videos raised their confidence and assisted them in deciding whether to purchase an item or not.
"People spending money on sofas or sectional seating need to be certain that what they are ordering online fits their style and taste as well as their budget," cautioned Peter Goldstein, VP of Sales for Sofas And Sectionals. "Providing videos of our products helps our customers make informed decisions, ensuring that they'll be happy with their purchase for years to come."
But the folks at Sofas Shopping believe that simply tweaking their website and using alternative materials for the sofas to keep prices down is the real key to successful online sales. They've found that other materials that mimic leather or suede are of such good quality, people can't tell or feel the difference.
"Today leather match reached such a quality and technologic production that it is hardly possible for most of the people to find difference between the real leather and leather match," said Sher."So that main difference is the price which is twice as cheaper."
Aside from improved websites and product videos, buying a major piece of furniture online is still risky, but it's good to know that online retailers are making decent efforts to make the consumer feels better in this specific area of furniture shopping.
---