---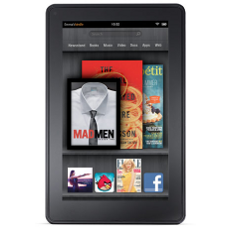 With all of the cool and unique things that Apple iPads can do, it's hard to believe that in a few short years more people will be using tablets like the Amazon Kindle Fire over iPads.
It's surprising but true, according to a study conducted by NPDDisplaySearch. The market research company says that shipments of tablets will increase from 81.6 million units in 2011 to 424.9 million units by 2017. For the year 2013, the prediction for tablets being shipped will go up from 168.9 million to 184.2 million. Wow! Right?
One of NPD's researchers explains why:
"As the market matures and new competitors become better attuned to consumer preferences and find opportunities to break new ground, we expect the landscape to change dramatically, giving consumers more choices, which will drive demand for more devices," said NYDDisplaySearch's senior analyst Richard Shim.
The sheer customer demand for tablets will also increase, as results of the survey confirm that the number of tablets shipped will far exceed shipments for notebook PCs by 2016. The report relates this growth to future tablets being able to tap into new operating systems and display functions.
Laptops fading
If you look around, tablets have nearly replaced laptops as the go-to piece of portable technology. In a separate 2011 survey conducted by The Small Business Authority (TSBA), it was fond that more independent business owners use tablets than laptops. In fact, 55 percent of 1100 business owners expect to use a "tablet or other device" in the very near future, according to the survey.
If computer usage of the independent business owner is any indication to the changing technology climate, laptops and iPads could easily become computer relics of yesteryear. Not to mention the poor and forgotten about desktop computer.
"We are surprised but closely focused on the growth of the tablet as a tool for independent business owners," said Barry Sloane, the president and CEO of TSBA. "Our client base in excess of 100,000 business accounts when surveyed indicated that over 50 percent are utilizing the tablet as one of their several devices for business applications."
Even though Apple is the Goliath to everyone else's David, experts believe that future looks of tablets will lead iPad loyalists over to alternate devices like the Amazon Kindle Fire. The DisplaySearch report also confirmed that more tablets will feature AMOLED screens, increasing in size from 3 percent to 30 percent by 2017.
If one still isn't convinced that tablets will surpass iPads in the near future, just look at the Charlottesville City School System in Virginia. Their school district handed out 2,000 tablets to their students, choosing them over iPad's because of security and durability reasons.
And of course, once a new technology becomes the standard for school children, it pretty much sets the precedent for future devices and technology use. Meaning that you'll probably be kissing that beloved iPad goodbye just to keep up with the ever changing computer trends.
---