---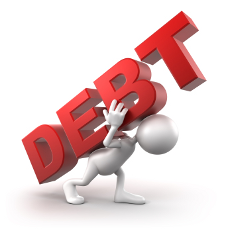 Homeowners may still struggle to make mortgage payments, but when it comes to other types of debt, consumers appear to have their financial lives under better control.
A report by Equifax, a credit reporting bureau, shows finance write-offs -- excluding home mortgages -- plunged by 52 percent over the last three years. The write-offs have decreased to $26.2 billion as of April 2012 from $54.1 billion in April 2009.
Equifax attributes the decline in defaults to both improvements in general repayment patterns and lower numbers of bankruptcies. Bankruptcy dollars have declined at a slower rate, comprising 15.7 percent of write-off dollars in 2009 but 18.5 percent of write-off dollars today.
This is due to faster declines in the average dollar size of general delinquencies, relative to the peak of the recession, the company reports.
Paying down debt
Consumers are also paying down their debt. Non-Home Finance balances declined by seven percent or $193 billion since October 2008, but the deleveraging trend ended about a year ago, with balances now 1.5 percent higher than in May 2011.
Balances on auto loans are increasing following the trend in rising auto sales, while credit card balances are declining at a slower rate due to sustained origination increases and payment improvements that mirror pre-recession levels.
There are signs, however, that consumers are once again running up credit card balances. Based on current trends, card balances will stop declining and begin increasing during 2012, Equifax said.
As has been noted previously, student debt totals are trending higher, in part because more people are returning to school in hopes of improving their job prospects. Student lending balances rose 66 percent to $766 billion in November 2011 from the pre-recession average of $460 billion, before falling back to $753 billion as of April 2012.
Looser purse strings
Part of the reason that debt is rising again, Equifax notes, is that lenders are, for the first time since the recession, beginning to increase loans.
"Consumers are now starting to see greater accessibility to credit opportunities and they are taking advantage of those opportunities, though in moderation," said Equifax Chief Economist Amy Crews Cutts. "The American household's balance sheet is looking much better now, with debt burdens down significantly due to both write-offs and consumer-led deleveraging, and slow but significant improvements in the economy."
Even the home mortgage picture is improving. Equifax reports home mortgage balances have decreased $1.2 trillion since October 2008, posting a fourth consecutive year of decline.
---