---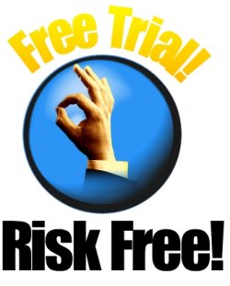 If you were to ask your average consumer what they're looking for in a company that sells them a product or service, they might say they're looking for decent pricing, or maybe good customer service. But according to a recent report, free products and services are extremely important to many consumers, and nearly half of them will return to a company that gives away something for free.
A new report conducted by technical support firm iYogi Insights shows that 42 percent of consumers will use a company again, if they receive new products and services for free. Which makes total sense, right? Think about when you're strolling through your mall's food court, and you receive that free toothpick sample of orange chicken from that Chinese eatery, or you accept a first-week-free-deal from that gym you always wanted to try. Let's face it, receiving a product or service for free helps to bring down the consumer's wall of trepidation.
Of course, it can also be a trap for unwary consumers who may find that their "free trial" has turned into a continuing monthly charge on their credit card statement. More on that later.
Despite the risks to consumers, "Freemiums" have become a growing necessity in the relationship between buyer and seller. A Freemium is a way for companies to introduce new types of products and services for communication, entertainment, music, productivity, and cloud applications.
The report shows that 100 percent of respondents have received Freemium offers in the past for at least one product or service, and 39 percent of consumers have received a free one-on-one consultation with an industry expert, whether that industry was Nutrition and Fitness, Career and Life Coaching, Lasix Surgery or Energy Savings.
ConsumerAffairs briefly spoke with iYogi's co-founder and president of marketing, VishalDhar, about the growing trend of Freemiums, when they started growing in popularity, and whether they are a good fit for all companies.
Can you speak about when Freemiums became the norm for a lot of businesses, and around when that time was?
Most companies turned to the Freemium model as a means of increasing usage over the last 10 years, largely propagated by Internet-based delivery models and products that were creating new categories. In the recent years, we have seen a growing trend of Freemium services being delivered through one-on-one consultations for new services covering a wide range of services including health and nutrition, energy savings, Lasik surgery and tech support, to name only a few.
Can you please speak a bit more on why Freemiums are so important to today's consumer?
In today's market, consumers often need to test pioneering products and for free to truly understand their relevance and appreciate the value they offer. These are what we call 'Experience Goods'. Freemium models allow consumers a chance to use and experience these goods and develop the confidence in transitioning to paying for them.
To give you an example from our own business, iYogi has been delivering subscription-based tech support to customers located in four different countries from delivery centers located thousands of miles across the world. While this is an extremely efficient delivery model, it is also a relatively new concept made possible in the high speed Internet age, and is something that people need to experience and believe in before they are willing to commit to long term.
At iYogi, we realized at an early stage that Freemium was the way to go, and we now offer customers a free one-on-one consultation by which our tech experts access users' computers remotely, after seeking due permission, and help diagnose their problems and the resolutions available before asking them to subscribe to our services.
Are there certain industries that should use Freemiums more than others?
While Freemium has been used primarily by Web-based products and services, various other categories have recently adopted the Freemium concept and customized it to suit their purposes. Energy-savings, Lasik surgery, nutrition and fitness and tech support are examples of industries where a free one-on-one consultation with an expert is a new kind of Freemium that is quickly gaining popularity.
As new kinds of services emerge to keep in pace with our rapidly digitally-dependent lives, with new kinds of delivery models one would not even have thought about few years back, we see services as a new area of growth whereby people can actually experience a service and feel confident about its usefulness and quality before signing up for more.
Using the iYogi remote tech support services again, users need to be convinced that this is indeed a dependable and cost efficient model which they can access from the comfort of their home without risking damage to their devices and putting their data security at risk, before they agree to sign up for long-term.
Since Freemiums make perfect business sense, especially for newer and more radical products, why do you believe some companies are still unwilling to offer them?
Freemium has worked very well for many products, but it still is, comparatively speaking, unchartered territory. Established products and services are constantly challenged by new types of offerings and delivery models. New companies trying to change an existing ecosystem need to offer a different approach to get people to use their products.
They have to take a longer-term approach and be willing to give away that free experience in order to gain user loyalty and establish themselves in the market. After all, it's not just about trying a new brand or a service, it's about trying a whole new method of delivering a services, and people want to be sure that it works before they commit.
Marketers need to have the mindset for innovation and the boldness to use Freemium. The Freemium Hall of Fame is filled with genuinely excellent products – it takes a huge confidence and belief in your product and the value it brings to the consumer, to be able to give it away for free!
A note of caution
The India-based tech firm went on to say that "freemiums will become the new benchmark for products and services," and if a product or service can't be enjoyed for free, there's a good chance it will not sell at all.
That's all fine, but consumers need to be aware that many "free trials" are, in fact, little more than scams intended to separate you from your money.
In a recent story, ConsumerAffairs' Mark Huffman advised consumers to say "No, thanks" when offered a free trial that requires them to give their credit card or checking account information.
Despite what freemium's promoters have to say, that's still good advice.
---