---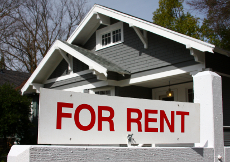 Since the start of the Great Recession, homeowners have been hit hard by rising foreclosures, but they aren't the only ones feeling a financial squeeze.
New research from the Carsey Institute at the University of New Hampshire shows an increasing number of renters are feeling the pain, with younger renters and people in the West feeling the most "cost burdened."
"Increased need among American renters indicates that strong public housing programs are necessary to protect individuals from becoming overburdened," said Jessica Bean, research associate at the Carsey Institute. "However, this research also demonstrates that the lowest-earning households experienced the smallest increases in cost burden over time, indicating that without the housing programs already in existence, America's most vulnerable households likely would have fared even worse."
A homeowner or renter is considered "cost burdened" if they spend more than 30 percent of their income on rent and utility costs. Because home sales have plunged over the last four years, more people are moving into the rental market to find housing. That has had the effect of driving up rents.
The report found that nationwide, 49 percent of all renters were "cost burdened" in 2010, with the highest rates occurring in the West and in central cities. In all regions and across all place types, the percentage of renters who were cost burdened increased between 2007 and 2010.
The largest increase in cost-burdened renters occurred in rural areas, up 4.3 percentage points by 2010, compared with increases of 3.4 and 2.9 percentage points in suburban places and central cities, respectively.
Young renters hit hardest
Sixty percent of young renters, those under age 25, were cost burdened in 2010. In all regions, the largest increase in the proportion of renters who were cost burdened occurred among those with a household income between $20,000 and $50,000.
Ironically, home affordability has never been higher. Mortgage rates are at all time lows and housing prices have fallen significantly from their pre-bubble highs. Mortgage payments, including taxes and insurance, are generally much lower than rents on comparable square footage.
However, in the wake of the housing meltdown, fewer prospective buyers can qualify for loans. Lenders now require higher down payments – often 20 percent of the purchase price or more – and have raised minimum acceptable credit scores.
As a result, rents are rising just about everywhere. The Manhattan Rental Market report found April 2012 rents rose 0.4 percent from March.
Richmond, Va., has 15 new apartment buildings under construction in its urban core, adding about 1,200 units, according to a report in the Richmond Times-Dispatch. The report says the apartments are "leasing up quickly."
---