---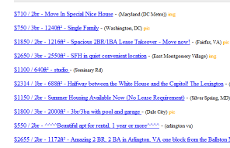 With fewer people able to qualify for a home mortgage, there are more renters, meaning competition for available rental properties. Some scammers are taking advantage of that.
It starts when a scammer gets access to a home or apartment, either by obtaining a key or even by picking a lock. He then places an ad – usually on craigslist – offering the property at an attractive rent.
The low rent brings out plenty of people who are interested in renting it. The scammer arranges to meet the prospective tenants and shows the property. If they show interest he tells them he has others who want to see it and if they want it, they'd better sign the lease immediately.
The scammer then produces a boiler-plate lease and has the victims sign, asking for a deposit or the first and last month's rent.
Here is the dead giveaway that it's a scam: the scammer says it must be cash or money order, not a check. The scam will be exposed fairly quickly and if the victim has written a check, there may be time to stop payment. So any scammer will insist on cash.
If the victim hands over cash or a money order, the "landlord" will disappear, but probably not before collecting money from two or three other "tenants."
It's a racket
Real estate agents say it's becoming a huge racket, with scammers usually targeting foreclosed homes that are unoccupied. The chances of them being caught are much less.
But these properties usually have a realty company's "for sale" sign with the name and number of the agent. If you become suspicious, call the number on the sign and ask questions. If the sign says that it is "bank owned," then the property will not be for rent.
A request for payment in cash is another red flag, although the scammer may try to justify it by saying he's been burned in the past. An unusually low rent can also be a sign that something isn't right about the deal.
And if the "landlord" tries to pressure you into a snap decision by saying he has other eager would-be tenants, then that pretty much clinches it – it's a scam.
---