---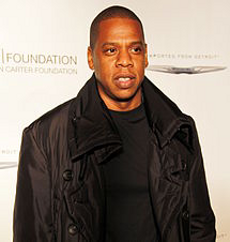 Most of us are familiar with the Hip-Hop mogul Jay-Z. Whether it's for his 16-year plus music career (the guy outsold the Beatles for Pete's sake), or whether it's for his impressive business acumen. Either way, the Brooklyn rapper has gone from corner street hustler to hanging out with Warren Buffett. Not bad.
In his recent dealings, Jay-Z has partnered with Budweiser to organize and headline a summer music concert in Philadelphia. The mega concert being dubbed "Made in America," kills two marketing birds with one stone, as Jay-Z's 2011 song with Kanye West shares the same name, and it's also perfect for Anheuser-Busch's all-American branding image.
If you're of a certain age, then you'll remember the Budweiser Superfest which was a summer staple for music lovers from 1979 to 1999, linking itself with the industry's biggest acts like Aerosmith and Michael Jackson.
In recent years Budweiser has lost some of its youthful coolness, with newer, younger and seemingly hipper beer brands popping up a mile a millisecond, so the self proclaimed King of Beers is trying to reclaim its throne to a new generation of consumers. And Budweiser's efforts could be the music consumer's gain.
As part of the concert deal, Jay-Z will hand-pick each act to create a unique concert experience for the consumer who seeks out the best in summer concerts each season. As rosters for mega-concerts are usually put together solely by corporate entities, who may not have its finger on all that is hot and current, the "Made in America" concert will showcase 30 artists selected by someone who couldn't be more knowledgeable of what listeners want to hear.
And with close personal friends of Jay-Z like Chris Martin from Coldplay or U2's Bono, there is no telling what concert goers will be in for this Philadelphia summer.
Deeper connection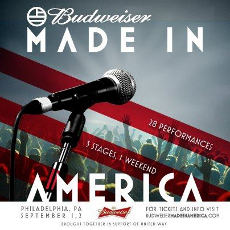 "Budweiser is expanding into a bigger and deeper connection through music," said Rob McCarthy, vice president of Budweiser at Anheuser-Busch. He added that both the partnering and the concert is meant to "engage young adults who have a passion for music," and the company plans to create a roster that is "very diverse, touching all that make up America."
Budweiser said it is not only interested in pulling in younger legally aged consumers, but also would like the brand to reach across, ethnic, race, and class lines.
This is the brewmaker's second recent attempt at bringing back the concert series. In 2011, on a smaller scale, Budweiser attempted to headline soul singer Jill Scott for its new wave of concerts, but the Philly singer's demographic proved to be too 30-something, for the beer company that was aiming for a younger target.
This is also Budweiser's second goaround with Jay-Z, as the company named him a brand director for its Budweiser select product in 2006. However, that first partnering was not successful as Select suffered a loss in sales in 2007.
However, it wasn't just Budweiser that suffered from sales losses, as the entire beer industry has seen better days. According to the American Consumer Satisfaction Index, Anheuser-Bush, Miller, and Molson Coors have all seen a decline in sales in recent years.
This year has seen the return of huge companies trying to realign themselves with the music loving public. Coca-Cola, Burger King and Pepsi have all recruited some of the musical elite to further strengthen their products with new consumers.
So, whether you are a beer drinker or not, or a Jay-Z fan or not, you'll be able to see one of the biggest and most diverse concerts this year. Now exactly how much those tickets are going to run you is a whole other story entirely.
---