---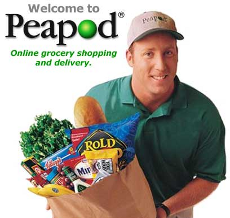 Picture this: you quickly move through your weekday morning attempting to get out the door earlier than you did yesterday. You frantically grab your phone, keys and bag and race out the door faster than Olympian Usain Bolt.
Avoiding another mean look from your boss is all the motivation you need to make it to work on time today, but at the subway station you notice something you've never seen through the corner of your eye. Then you ask yourself, 'Did I just see rows of digital grocery products at my local train station'?
If you live in Chicago the answer would be a surprising yes, as the online grocers Peadpod have created a virtual supermarket right inside one of the city's "El" train stations. And more digital food markets are on the way.
Several virtual shelves are shown on the walls of the train station, and contain 70 products to choose from, where people can use their smartphones to scan and purchase items on the spot.
Customers can buy typical grocery products like shampoo or fresh produce after downloading a free Peapod app on their Androids or iPhones. Once an item is scanned and added to the app's grocery cart, the products will be delivered to your home the next day.
But how happy are Peapod consumers? In a word, quite. A ConsumerAffairs sentiment analysis of about 20,000 comments on Twitter, Facebook and other social media finds positive net sentiments as high as 94% at some points during the past 12 months.
Game-changer
"It kind of changes the game for the out-of-home advertising medium, almost as a kind of service rather than branding," said Dave Etherington, senior vice president of marketing for the media company Titan.
Although new to the windy city, Peapod's virtual market is the second city in the U.S. to offer this Jetson-esque way of shopping, as it was introduced earlier at a Philadelphia train station. Peapod is giving the virtual supermarket in Chicago a 12-week test run to determine if it will choose to open up more stores in other cities.
As smartphones continue to be a common tool for shopping among many consumers, it only made sense for Peapod to find a way to bring its online store to the consumer.
The virtual supermarket was first introduced by U.K. based grocer Tesco, which established digital stores at South Korean subway stations in the summer of 2011. Since Peapod kind of established the online grocery store concept many years ago, it desired to be the first to jump on this futuristic way of buying and bring it to the United States.
Virtual shelves allow hurrying commuters to shop while they wait for the train, and also serves as a stunning visual advertisement for the virtual supermarket concept itself.
"It does a fantastic job of branding, but in a very transparent measurable way, it ships products and it generates revenue, explained Etherington.
Good reviews
As noted above, reviews from of the virtual store have been consistently high, as consumers have praised its convieniance and time saving ability.
What is it consumers like about Peapod? It mostly boils down to convenience and, interestingly, there's almost no negative emotions to counterbalance those warm, fuzzy feelings.
"Grocery shopping doesn't necessarily happen the way it used to," said Mike Brennan, senior vice president and chief operating officer at Peapod. "It's becoming more of a task that happens in multiple steps throughout the week."
And he's right. How often have you sacfrificed a home-cooked meal for consecutive days of fast food, simply because you were too busy to make it to the grocery store?
This may be a great answer for today's shopper who usually doesn't have time to shop.
---