---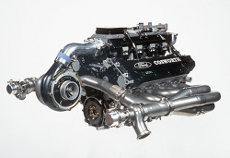 An aftermarket Cartech turbo mounted on a Ford engine
With gasoline prices at elevated levels in recent years, consumers are looking for more fuel efficient cars. In some cases that means looking at smaller cars with smaller engines.
But going small doesn't mean giving up power. Automakers increasingly are offering models with turbocharged, or "turbo" engines that offer fuel economy and power.
A turbocharger works by compressing a greater amount of air through the combustion chamber, resulting in more power and efficiency. A turbocharger uses exhaust gases that otherwise would be wasted to increase air flow into the combustion chambers providing big engine power performance with small engine efficiency and reduced emissions.
Better efficiency and power
It allows automakers to use a smaller, more gas-stingy engine without giving up zip. Turbo engines are popular in both gasoline and diesel powered engines.
As automakers introduce new turbo models, consumers appear to be gravitating toward them. Honeywell Turbo Technologies estimates the number of turbocharged commercial and passenger vehicles sold in North America is projected to reach 3.2 million in 2012, up from 2.2 million in 2011.
Passenger vehicles alone account for nearly 850,000 additional turbo engines – a 61 percent increase from 2011.
"With fuel prices being a significant concern for consumers and businesses, turbochargers are a smart choice for getting more miles to the gallon," said Tony Schultz, vice president for the Americas, Honeywell Turbo Technologies. "It's a proven technology that can be used across market segments and does not put the consumer in an extended payback period like other technologies to realize its benefits."
Proven technology
And while hybrids and the emerging electric vehicles (EV) are relatively new automotive technologies, Schultz points out that turbocharging technology has been a fuel economy driver for decades in the United States for the on- and off-highway commercial vehicle market, as well as in global passenger vehicle markets like Europe.
While there are more turbos on the road, there are decidedly fewer eight-cylinder engines. According to J.D Power and partner firm LMC Automotive, turbochargers were fitted in only two percent of gasoline or flex-fuel vehicles produced in the United States in 2008, but that figure jumped to 9.5 percent in 2011 and is expected to more than double to 23.5 percent in 2017.
A smaller turbocharged engine can provide a 20 percent to 40 percent fuel economy improvement and deliver the same performance as a larger engine. Industry data illustrates the ongoing downsizing trend as the average engine size in North America is decreasing from 3.6L in 2007 to a projected average of 2.9L by 2016, according to Honeywell.
Turbocharged automobiles, such as Ford's EcoBoost lineup and the Chevrolet Sonic and Chevrolet Cruze have been among the best-selling vehicles in the U.S. this year. The Cruze Eco and Sonic, which both offer turbocharged engines among its models, can deliver 40 miles per gallon or higher on the highway and have starting prices below $20,000.
---