---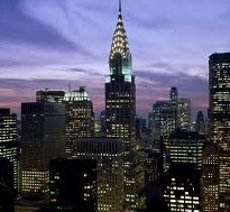 Still have plans of living in the big city? You may want to reconsider, as a report suggests that New York City has been the most expensive place to live in the U.S. since 2009. Not a shocker? Maybe details of the report will be.
The Center for an Urban Future conducted the cost of living survey and showed that someone living in New York making $123,322 annually, would equal a person making $50,000 in Houston, or $26,092 in Atlanta, when it comes to standard of living.
Results of the report went on to say that, "Income levels that would enable a very comfortable lifestyle in other locales barely suffice to provide the basics in New York City."
The big expensive apple had an average monthly rent of $2,801 in 2009, being 53 percent higher than San Francisco, which used to be New York's runner-up for most expensive city at that time. In 2012, the average rent amount in Manhattan is $3,418, far outpricing the Golden Gate City.
The report also shows that New Yorkers have a harsher commute than others around the United States. Those who live in the city's outer boroughs average nearly an hour of travel time, due to many of the jobs being based in the city's epicenter of Manhattan.
If you thought by just living on the outskirts of Manhattan would save you from high costs, think again. Both Brooklyn and Queens made the top-ten list when it came to 2012's most expensive cities, at number two and five respectively.
As the Sinatra song might have said, if you make it here......you'll really need a lot of money.
Other key findings in the report include:
New Yorkers paid about $34 a month for phone service in 2006. In San Francisco, similar service cost $17 a month.
Home heating costs have jumped 125 percent in five years and went up to 243 percent between 1998 and 2009.
Wages in the city have remained mostly flat in all boroughs but Manhattan - even during the boom years from 2003 to 2007.
Here's a complete list of 2012's most expensive cities to live in:
Manhattan
Brooklyn, N.Y.
Honolulu, Hawaii
San Francisco,

Calif

Queens, N.Y.
San Jose,

Calif

Stamford, Conn.
Truckee-Nevada County,

Calif

.
Washington D.C.
Orange County,

Calif

.
And yes, we know ... Manhattan, Brooklyn and Queens are all part of New York City but the report in question chose to list them as separate cities, so please don't shoot the messenger.
---