---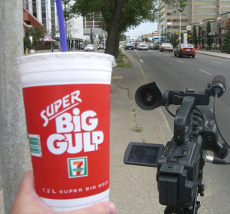 Wikipedia photo
A few decades ago, New York City Mayor Ed Koch tackled head-on the problem of New Yorkers parking wherever they felt like with large signs reading, "Don't even think of parking here!"
Fast forward to 2012. There's still no place to park but the current mayor, one Michael Bloomberg, could care less. He takes the subway or his private jet, after all. No, it's oversized New Yorkers who get his goat. And don't even think about smoking there!
In Bloomberg's latest attempt to rebuild New Yorkers in his image, His Honor has announced his intention to ban the sale of large-sized sugary beverages at restaurants, theaters and concession stands in the city.
The proposed ban would include soda, iced tea and energy drinks that are sweetened with sugar and sold in cups or containers that exceed 16 ounces. Diet drinks, of course, would be exempt from the ban. So would fruit juice beverages, drinks made from dairy products, like milk shakes, and oddly, alcoholic beverages. (The mayor likes a glass or two of wine with dinner, we're told).
The ban would also not extend to giant-sized sugary beverages sold in grocery or convenience stores. Go figure.
In a New York minute
The proposed ban would go into effect early next year, barring litigation -- which is as certain as a morning back-up on the FDR Drive. For one, the New York City Beverage Association immediately criticized the idea.
"The New York City health department's unhealthy obsession with attacking soft drinks is again pushing them over the top," said association spokesman Stefan Friedman.
The ban on giant-sized sugary drinks is just the latest effort on Bloomberg's part to force changes in health habits in his jurisdiction. In the past he pushed for, and obtained, bans on smoking in restaurants and parks, removed trans fat from restaurant food and forced restaurants to post their health department inspection grades in their windows.
New York City also was among the first jurisdictions in the nation to require fast food outlets to post calorie information on their menu boards.
If all this frustrates you so much you want to go outside for a smoke, forget about it. Bloomberg has outlawed that as well. The New York City Health Department said that one year after a ban on smoking in parks and beaches took effect, smoking in select city parks declined by two-thirds between the fall of 2010 and the fall of 2011.
The city also says smoking-related litter on beaches declined by about two-thirds between the summer of 2010 and 2011, and there was a significant decrease in smoking litter on playgrounds, where smoking has been banned since 2002. The department said the results are based on an internal observational study. Just from lookin' around, in other words.
You'd think that, now and then, somebody would look around and notice that, as a group, New Yorkers are a pretty thin bunch, compared to the rest of the country. And why is that? Well, one theory is that they walk so much getting to and from the subways, trains and buses.
After all, you can't even think of parking there.
---