---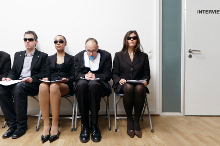 College graduation brings about many things. Feelings of accomplishment, feelings of closure, but for many what it doesn't bring is gainful employment.
According to career expert Don Philabaum, the economy is creating less than 150,000 jobs per month for a graduating class of 2 million in 2012. As grads walk across the stage to receive their degrees, their real challenge begins once they get off that stage and face the unforgiving and sometimes cut-throat world.
Philabaum who authored the new book The Unemployed Grad, And What Parents Can Do About It, says parents should be completely involved with their children's transition from the dorm room to the board room.
Along with the book, Philabaum offers free Webinars so parents can be better equipped in helping their college graduates find good jobs. He also states that 80 percent of the 2012 graduating class will be unemployed upon graduation, and students' first course of action should be to sit down with their parents, and come up with an effective course of action to maximize their new degrees.
Could be worse
Although the 2012 graduating class will have their fair share of challenges locking down a job, graduates of 2011 had it even worse.
The National Association of Colleges and Employers recently reported that employers will be hiring 10.2 percent more new college grads in 2012 than they did in 2011. Also, 44.2 percent of of new grads who looked for employment actually received offers.
However, Philabaum believes a different course of action is needed for the grad who is stuck at home still looking for work. Many parents may attribute unemployment to a lack of ambition on their children's part, but the book and the Webinar suggest that it's a lack of true-world experience that makes it hard for young adults to compete with a competitive job market. Or, recent graduates simply don't know where to begin after leaving school.
Research shows that 27.2 percent of graduates will never visit the career center, 16.1 percent will visit only one time, and 18.2 percent will visit twice. Again, this may not always be attributed to laziness, as much as it should be attributed to students simply not knowing the proper course of action.
According to a survey from Talent Marks, 95 percent of grads didn't have a written or thought-out job search plan, and 60 percent spend only one and five hours weekly looking for a job. And once students leave the college campus once and for all, they no longer have career centers and counselors at their immediate disposal.
"Graduates don't have a clue about how to look for a job", says Philabaum. " Surveys show grads don't spend enough time looking for a job, have not learned how to professionally use social media, or network with alumni on LinkedIn. Why? The college career center is no different than a club on most campuses. Students are not required to visit, or for that matter take ownership of their career."
To assist both the grad and the parent Philabaum is offering three free Webinars that users can access here. The Webinars will be on June 12, June 21 and June 30, 2012, at 8:30 PM Eastern standard time.
---