---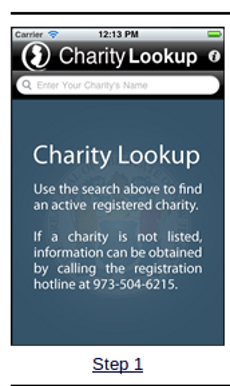 U.S. consumers have been known to show levels of altruism towards the troubled and the unfortunate. Whether it's due to a natural disaster, a hunger problem, or a medical condition, consumers can be quite charitable at times.
But how does one know their money is ending up in the right place? New Jersey's Division of Consumer Affairs has answered this question by creating an app that lets you investigate before you donate. Consumers can also track how their charities are applying the donated funds.
The app is called "Charity Lookup" and it's for iPhone, iPad, and iPod touch users. In theory, the app provides the needed background information to a charity or cause, so users can become more educated and feel more confident when donating to a charity.
The New Jersey Division updates the app each week with info from its own database. It gathers the financial records of 26,000 charities and nonprofits that solicit New Jersey residents.
New Jersey state officials say not all charities use donated funds in the same way, and this app will allow users to not only feel better about donating, but also see exactly how much of their donations are being given to the actual cause.
Smart donors
"Savvy consumers do their research before they make a purchase or an investment-- and they should do the same before giving to a charity," cautioned Attorney general Jeffrey S. Chiesa.
"When you look at the numbers you'll learn some so-called charities dedicate only 10 or 20 cents of each donated dollar to actual charitable programs, and give the rest to fundraisers. Other organization spend virtually every penny on worthwhile charitable projects. With this app we've made it easier than ever to know where you money will go, before you donate, he said."
Like most apps, it's built to be very user-friendly. The user would simply type in the name of a nonprofit, then by clicking on the organization's name, users can view background information of the charities expenses and revenues. The breakdown of each organization is pulled from its most recent fiscal year report.
Eric T. Kanefsky, acting director of the New Jersey Division of Consumer Affairs said consumers have a right to know the full intentions of a charity, as with any other organizations they deal with.
"While the Supreme Court has ruled that states can't force charities to spend more money on charitable causes than on fundraising or management costs, we owe it to consumers to bring transparency to the ways charities use the donations they receive," he said.
"This app, like our Charities Registration Hotline, provides an important service. It will help shine a spotlight on the state's most un-charitable charities, and bring well-deserved recognition to the organizations that put donated dollars to valuable use."
65 percent
Kanefsky also added that charities should be donating at least 65 percent of its donations toward its charitable programs, and no more than 35 percent toward fundraising efforts.
For now, only those with Apple mobile devices can use the app, but Android users and those who use other devices will soon be able to use it too. Those interested can either download it here, or by going to an Apple App store on their mobile device and doing a search for "New Jersey Charity Search."
But even those without the app can check the legitimacy of a charity or non-profit. Consumers can simply phone a charity and ask them how its money is spent. If a charity is unwilling to give this info to you, it may be an indication that it's not reputable.
Although rolled on in the State of New Jersey, other states should be seeing similar applications. But in the meantime, getting all of the background information on a charity, coupled with asking a bunch of questions, should allow the donator to make a more educated donation, since donating blindly to a cause can do more harm than good.
---