---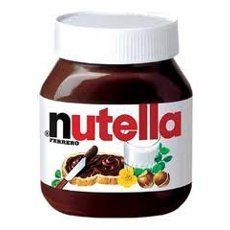 Have you ever seen that breakfast commercial for the chocolate spread Nutella? The one with the busy working mom racing around the kitchen, attempting to quickly feed her children while conveying to the world how healthy and wonderful this dessert product is for breakfast?
If you're around ten years old, having chocolate for breakfast is quite the accomplishment, but anyone outside this age group may see something a bit strange with this commercial and its nutritional claims, which was the case with two mothers who took the makers of Nutella to court in order to get the company to admit that their product is no  healthier than a chocolate bar. And guess what -- the moms won and now other consumers of Nutella can share in the winnings.
"I thought it was at least as nutritious as peanut butter if not more and that's the impression I got from the advertisement," said Laura Rude-Barbato, one of the mothers who took her dissatisfaction to court. "I thought it had health benefits and it clearly doesn't."
Athena Hohenberg from San Diego, who has a 4-year-old daugther, also took the Nutella makers to court for false advertising claims.
The television ad states that "Nutella is made with simple, quality ingrediants like hazelnuts, skim milk and a hint of coco," which all sounds pretty healthy, right? But the company fails to convey the percentages of each ingredient and list the name of each additive. the suit charged.
"I felt duped," Rude-Barbato said and the court agreed, making Ferrero USA the makers of Nutella pay the mothers a sum of $3.5 million, which is anywhere from $4 to $20 per person.
Anyone who purchased Nutella between Jan. 1, 2008 and Feb. 3, 2012 (Aug. 1, 2009 abd Jan. 23, 2012 for California residents) can file a claim, but it must be done by July 1, 2012.
Here's a portion of the actual settlement:
IF YOU PURCHASED NUTELLA IN CALIFORNIA BETWEEN AUGUST 1, 2009 AND JANUARY 23, 2012, OR IN ANY OTHER STATE BETWEEN JANUARY 1, 2008 AND FEBRUARY 3, 2012, YOU MAY BE ELIGIBLE TO RECEIVE A PAYMENT FROM A PROPOSED CLASS ACTION SETTLEMENT. Please read the materials on this website, including the class action notices carefully as they describe Class Action Settlements that may affect your rights.
IMPORTANT DATES & DEADLINES: Submit A Claim Form:                    Postmarked or submitted on-line no later than July 5, 2012 Request Exclusion:                         Postmarked no later than June 8, 2012 Make Objections:                             Filed/Delivered no later than June 8, 2012 Fairness Hearings:                         New Jersey Court (for the Nationwide Class)                                                             July 9, 2012 at 10:00 a.m.                                                             California Court (for the California Class)                                                             July 9, 2012 at 10:30 a.m.
| | | | |
| --- | --- | --- | --- |
| Case Name and Number  | Court and Address | Purchase Location  | Time Period |
| In re Ferrero Litigation,              No. 11-CV-205 H | U.S. District Court for the               Southern District of California                940 Front Street              San Diego, CA 92101-8900 |   California | August 1, 2009               through              January 23, 2012 |
| In re Nutella Marketing and              Sales Practices Litigation,              No. 3:11-cv-01086 | U.S. District Court for the              District of New Jersey              402 East State Street              Room 2020              Trenton, NJ 08608 | Any state other              than California | January 1, 2008               through              February 3, 2012 |
Settlements have been reached in two class action lawsuits against Ferrero U.S.A., Inc. ("Ferrero") regarding its labeling, advertising and marketing of the Nutella brand hazelnut spread. The Settlements provide Class Members who do not opt out the opportunity to receive monetary relief as well as prospective relief in the form of corrective labeling, advertising and marketing. The lawsuit claims that Ferrero made statements suggesting that Nutella is healthier than it actually is.
---