---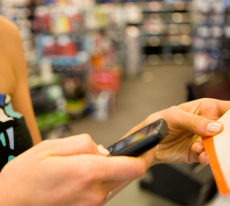 Today's consumers have become extremely savvy. They're masters at seeking out the latest and greatest in styles, bargains and new trends. And, like it or not, smartphones have become their weapon of choice, forcing retailers and marketers to shift their normal practices to both retain and communicate with customers.
In a new research report released by German market research company GFK, four important areas were identified in smartphones and tablets that help today's consumer with their purchasing:
information gathering,
value seeking,
social media access, and
transactions.
Results from the study show that out of those shoppers with a tablet or smartphone, 50 percent used a mobile device to compare prices while shopping in stores, 44 percent were seeking out coupons, 33 percent "liked" a certain store on Facebook, and 17 percent actually purchased something using a phone app.
The report leaves little doubt that, complaints and grousing aside, retailers who don't go with the flow will be swept away, or at least left high and dry. Target has been prominent among the large retailers resisting the use of mobile devices by customers browsing its stores and earlier this week banished the Amazon Kindle from its stores, perhaps in retaliation for Amazon's growing dominance of online shopping.
Call in the lawyers
Retailers have also been spending big bucks on lawyers and lobbyists, hoping to impose sales taxes on consumers who make online purchases, so far with only mixed success. A judge in Illinois earlier this week struck down that state's so-called "Amazon tax," saying it imposed unconstitutional restraings on online advertisers.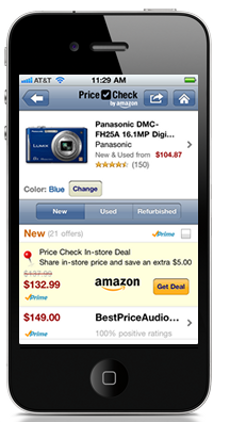 Consumers are not very sympathetic to this view. Readers responding to a ConsumerAffairs story last December about Amazon's price-comparison app gave short shrift to local stores' complaints.
"Small retailers need to do some rethinking. When they don't have want I want, they expect me to 'settle' for what is in stock. I'm tired of settling," said Zan Mayo Glodich.
Marvin McConoughey agreed, adding: "Small retailers should tremble. When consumers have a choice where and how to buy the mostly-imported goods that online and offline retailers sell, they often go with the lowest total cost. Retail markups are sometimes astonishingly large. Price shopping is a time-honored act of wisdom that should be intensified, not obstructed."
Consumers take control
While the battle between the cyber and brick-and-mortar worlds is usually portrayed as a struggle between rival business groups, consumer activists and market researchers say it may more correctly be seen as consumers asserting their right to control the shopping experience.
"Using mobile devices for shopping is both a symptom and a cause of what we see as a larger trend - a desire for greater control over the shopping experience," explained Alison Chaltas of Retail Strategy, an industry research group. "Product marketers and retailers can turn this challenge into an opportunity by becoming agents of learning, efficiency, and even creativity through their mobile efforts. By meeting the changing needs of shoppers, brands can inspire not just short-term sales but also long-term relationships."
Senior Vice President of GFK Rob Barrish said, "Mobile and online shopping are not just confined to big-ticket items; our research shows that the mobile trend is substantially impacting food and beverage, health and beauty, and even lawn and garden. Regardless of the brand, choosing the right mobile opportunities from coupons to co-creation of new products is essential to making digital efforts effective."
When it comes to selecting the best services and products, the report found that those with smartphones or tablets have a higher chance of feeling "more in control than ever before," compared to traditional shoppers.
Stores becoming showrooms
Also, nearly one-fourth of those with mobile devices merely use the physical store for looking at the item before going online to buy it -- a trend despised by brick-and-mortar retailers who grouse that their stores are turning into showrooms for Amazon and other online marketers.
This is especially true younger adults 18 to 34, as they are three times more likely to use a tablet or smartphone for buying items, compared to older adults 50 to 64. GFK also states that eventually all brands in the near future will choose to cater to those shoppers who use their mobile devices for purchasing assistance, since the younger generation will not know a world that doesn't use mobile device for shopping.
GFK based their findings on 1,008 interviews from March 16 to March 18 2012.
---