---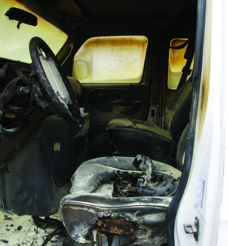 An unfixed recall caused this fire. Check for recalls FREE at recall.carfax.com. (PRNewsFoto/Carfax)
Buying a used car is always a somewhat risky proposition, and a new study from Carfax helps to quantify that risk. The auto history company says it found more than 2.7 million used cars were offered for sale online last year with safety recalls that had never been attended to.
Car rental companies are also often derelict in attending to safety recalls, and four of the biggest companies face a 30-day deadline to respond to a letter from Sen. Barbara Boxer (D-Calif.) asking them to commit to protecting consumers by promptly responding to recall notices.
"We're making a lot of progress, but there are still too many open recalls out there," said Larry Gamache, communications director at Carfax. "Many of these cars change hands without the buyer ever knowing a recall exists, increasing the safety risks both to passengers in the car and others on the road. We all need to do our part to make sure these cars are identified and fixed – buyers, sellers and owners alike. A simple online check for open recalls is all it takes to help make our roads safer."
Bob Knotts, a plumber from Delaware, tells his story in about the hazards of unknowingly buying a car with an open recall.
"My van caught fire from an electrical recall under the driver's seat that was never fixed," said Knotts. "Had it spread to the back where I keep a propane torch and highly-flammable glue, it would have been a total fireball."
California, Florida and Texas lead the nation with the most used cars for sale with open recalls, each having well over 100,000 last year. Recalls are vital to a car's safety, performance and resale value. Auto manufacturers are working with Carfax to further alert consumers about cars under recall. A free public service for consumers to check for open recalls using the vehicle identification number is available at recall.carfax.com. Open recall information reported to Carfax by auto manufacturers also is included on Carfax Vehicle History Reports.
Rental cars
Rental companies are also coming under pressure after revelations that many companies routinely ignore safety recalls. Perhaps surprisingly, there is no law that requires rental companies to bother with safety recalls but Sen. Boxer, along with Sens. Dianne Feinstein (D-Calif.) and Charles Schumer (D-N.Y.) have introduced legislation that would prohibit rental companies from renting or selling cars that have unfixed recalls.
Boxer sent letters this week to Enterprise, Avis and Dollar/Thrifty asking them to commit to agreeing to make recall repairs promptly. Hertz has already agreed to do so and Boxer said she will announce after 30 days whether the other companies have agreed to do likewise.
The legislation was introduced after two sisters from Santa Cruz, Calif., ages 24 and 20, were killed when a recalled car they had rented from Enterprise caught fire and crashed into a truck. A jury awarded $15 million in the crash.
---