---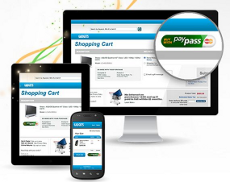 In the latest attempt to create a cross-platform, one-click shopping service, MasterCard says it will release a digital wallet called PayPass Wallet Services that can be used for purchases, whether in-store, online, or on mobile phones.
MasterCard's new venture will be part of its PayPass point-of-sale-system, which includes almost 500,000 stores and brands around the globe, where customers can make purchases by easily tapping a card or phone with NFC (near-field communications). However, the difference with PayPass Wallet Services is that associated businesses will be able to create payment systems under their own brands.
Among the first merchants to join the PayPass system are Barnes & Noble and American Airlines. Customers will be able to click a purchase button on each of the company's websites after first providing the needed personal information.
Convenience, flexibility
"Consumers are looking to pay for goods when, how and where they choose. Merchants want flexibility to easily accept digital payment so they can convert more browsers to buyers both online and in store," said Ed McLaughlin, chief merging payments officer for MasterCard. "We realize that when it comes to payments, no single wallet will rule them all. PayPass Wallet Services simplifies the shopping experience while providing flexibility and choice to merchants, brands and consumers."
Here's what PayPass Wallet Services comes with:
Acceptance Network (PayPass Online and PayPass Contactless) - Provides a globally consistent way to help merchants accept electronic payments across multiple channels whether the purchase is made in a store at the point of sale with Near Field Communication (NFC) technology or online using a computer, tablet or smartphone. PayPass Online also provides consumers with a simple check-out process by eliminating the need to enter detailed shipping and card information with every purchase.
Wallet - A full suite of digital wallet solutions enabling banks, merchants and partners to white label their own wallets. It makes online shopping safe and easy by allowing consumers to store payment and shipping information in one, convenient and secure place. The wallet is open, which means that consumers can use American Express, Discover, Visa and other branded credit, debit and prepaid cards.
API - Allows partners to connect their own digital wallets into the PayPass Acceptance Network, leveraging MasterCard's check-out, fraud detection and authentication services and enabling their customers to make purchases wherever PayPass is accepted - online and in store.
In the third quarter of 2012, MasterCard will make PayPass Wallet Services accessible to U.S., U.K., Canada, and Australia. Other countries will be included in the near future.
"MasterCard Canada led the adoption of innovative technologies in the payments space with the introduction of PayPass in 2005," stated President of MasterCard Canada, Betty K. DeVita. "With millions of Canadians now tapping with PayPass millions of times a month, we are ready to once again lead the market with innovations in mobile and eCommerce."
---