---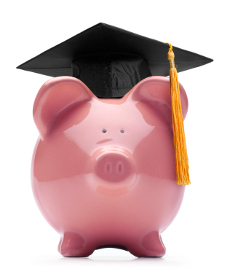 With college tuition costs growing higher and higher, saving up the needed funds is a challenge for many families. The 529 is a popular plan that helps families save for the future costs of tuition, but according to Edward Jones, 60 percent of Americans are clueless about what these plans are, and how they work.
The survey, which included 1,006 participants, was designed to gauge the level of awareness of the 529 plan through a series of pre-planned questions. When respondents were asked to select the best description of the plan among a list of choices, 62 percent of respondents selected the wrong answer, and 14 percent admitted to having no idea what the answer was.
College costs have been on the rise for quite some time, and by the year 2034 tuition cost will be nearly $288,000 for a four-year private school, and $123,000 at a public school, according to recent analysis, but only a relatively small amount of households kneo the benefits of the 529 plan.
Higher-income families more knowledgeable
But the 529 survey did show that families with higher incomes knew more about the tax plan.
More than 27 percent of respondents making less than $35,000 a year didn't know what a 529 was, while 57 percent of families making between $75,000 and $100,000 a year knew exactly what it was. And 62 percent of those families making over $100,000 were familiar with the 529 plan.
The survey also showed those with college degrees seemed to be more knowledgeable of the plan, as 53 percent of of this participant group said they were familiar with 529. Out of those respondents who went to school and didn't graduate, 33 percent chose the correct answers on the survey, compared to 29 percent of those respondents who only attended high school or dropped out.
The report also went on to show that 48 percent of families with children knew the benefits of a 529 plan, regardless of what their children's ages were, and those with children between the ages of 13 and 17 were 43 percent less likely than others to know what a 529 was.
The survey also showed those families with children under the age of 13 were most aware of the tax plan, as over half identified the 529, at 52 percent.
Geography also contributed to the gaps in understanding of the 529, as the Northeast was most knowledgably (45 percent), followed by Midwest families (40 percent), West Coast (33 percent), and South (35 percent).
The survey was conducted by Opinion Research Corporation for Edward Jones.
---