---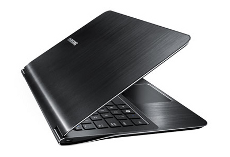 Samsung Series 9
When you think of pretty laptops, you never really had to look any further than Apple. The cutting edge tech kings are pretty much solely responsible for bringing style and coolness to the mobile computer world. But if you have been taking notice, PCs are becoming quite stylish in their own right, coming a long way from the drab coloring of just a few short years ago.
Some examples of the PC's facelift include Samsung's ultra-thin Series 9 notebooks, as well as the chic-looking Sony VaioZ. Both are pricey, but share an equal amount of decent performance and beauty.
With Windows 8 expected to be released in October of 2012, PC makers have increased design efforts to take away the Apple customer who places huge importance on computer appearance. Windows 8 is also being designed to run on both touch screen tablets and PCs.
Vaio Z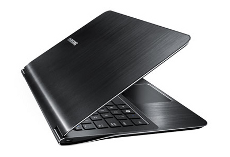 And speaking of new PCs, the Sony VaioZ is merely .66 inches in height and weighs only 2.57 pounds, making it ideal for long travels and carrying. The compact device is also great for using in areas with little room, like when you're jammed in between other grumpy travelers at the airport waiting area. When opening the laptop, the keyboard has a slight tilt better allowing access to the soft keyboard, which is much easier on the joints when typing for extended periods of time.
The VaioZ also comes with a small docking station providing better access to its USB 2.0 and 3.0 ports, and for a $150 one can increase the laptops four-hour battery life by purchasing an extra battery that can be manually placed onto the computer. Ideal for those travelers who find the electrical outlet elusive, and remain on the perpetual hunt for decent current.
But no one said beauty and high performance are cheap. The VaioZ is currently going for $1,700, which is extremely high in today's laptop arena considering one can purchase a really well-functioning one for about $400.
With a Core i5, eight gigs of memory and 128 gigabytes of storage, the Samsung Series 9 isn't that much cheaper ringing in at $1,500. Weighing 3 1/2 pounds and being only .58 inches wide, the sheer lightness and convenience of the laptop may be worth the price for those that have the funds. If laptops came any more light weight and thinner, they would probably tear upon opening them.
Apparently, PC makers have recently become aware of two things: One, that most computer users aren't true techies, and many times they place their purchases on first glance appearance over functionality. And two, that many people are willing to pay extremely high amounts for devices that are pleasant to look at, even though they may be unpleasant on the wallet.
---