---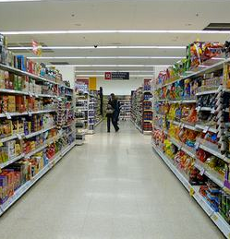 Making healthy choices at the grocery store can be a real challenge. Supermarket strategists are aware of this, so they have all kind of sneaky tactics to make customers choose the wrong things. Like strategically placing the sugary, salty, and processed foods at eye level, or by putting the easy-to-sell unhealthier items near the entrance, so you're enticed upon walking in.
Some supermarkets have tried to be more responsible in the area of healthful consumer shopping, by placing certain labels and nutritional information around the store to assist customers in making wiser food choices. But many past reports confirmed this does little to impact consumer decision, as the listings are often un-noticed or very confusing to understand.
Researchers from the University of Arizona College of Medicine and Arizona State University ran a study consisting of 153 local shoppers at a grocery store, to see if they would make healthier shopping choices with the help of an in-store nutritionist instead of store labels and warnings.
Participants of the study were brought to a supermarket that used shelf-labeling based on health tips from the American Heart Association. Each label either read "low sodium", "heart healthy", "calcium rich", "immune booster", or simply "healthier option".
Half of the volunteers shopped and only used the labels to make their product choices, and the other half of the group shopped with no labels, but received a counseling session from a nutritionist for 10 minutes.
Items documented
After each group made their purchase selections, researchers documented each item from the group that only used the labels, and each item from the group that received the 10-minute nutrionist counseling session. They noticed that the shopping group that had the counseling, bought a larger amount of fruits, vegetables and healthier products.
"Food purchasing patterns are predictive of actual dietary intake, and even the modest effects from our study could translate into meaningful health benefits if sustained longer term," said Dr. Brandy-Joe Milliron, postdoctoral Fellow at Wake Forest University, and head author of the study.
Does this mean we'll start seeing white-coated nutritionist at our local food markets? Or will we pay stricter attention to important product labels? Maybe not, as many U.S. consumers select their food products by price and what their able to afford.
In a separate 2008 study conducted by Amarach Research on behalf of the National Consumer Agency of Ireland, researchers found that 56 percent of supermarket shoppers choose their stores and food products by price, and that's before the current recession truly hit hard.
Hopefully, grocery store managers will step up their efforts in making it easier for consumers to make educated health choices, by way of labeling, nutritionists, or by simply making healthier products more affordable.
---