---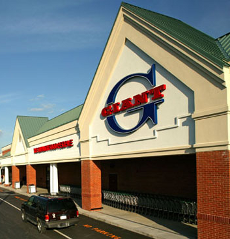 Between small corner markets, big all-purpose grocery stores and whatever lies between, it can be hard to select the best supermarket. However, a recent study picks Giant Food as participants' favorite grocery, with ShopRite and Walmart following afterward.
The consultant company Market Force Information, gathered 6,400 participants in March of 2012 to gauge their favorite place to food shop, and why they choose one particular supermarket over the other.
When it came to which grocery store was visited most, consumers chose Giant Food as their top choice. Closing out the top eight when it came to stores most visited were, ShopRite, Walmart, Publix, Costco, Kroger, ALDI and Safeway.
Although Giant came out on top in the heavily frequented category, researchers said survey scores were extremely close.
Low pricing
"The close scores in the pricing category demonstrate that consumers are not seeing differentiation on price as clearly as the price leaders would hope," said Janet Eden-Harris, Market Force's chief marketing officer. "Low pricing is the tablestakes for grocers who must now find new ways to distinguish themselves from their competitors down the block."
Researchers also studied what consumers thought of the overall shopping experience at certain grocery stores, including characteristics like price, cleanliness, produce and meat quality, store atmosphere and the store's business practices. Participant were then told to rank the top eight supermarkets in these categories.
For the second consecutive year, ALDI won the price crown for having the best deals, but Walmart, ShopRite and Costco were right on ALDI's heels for stellar pricing. The customer service and atmosphere award went to Publix, which also took the statue for most courteous staff, cleanest store and speediest check out time.
Deli department
The report also showed the deli, butcher and bakery departments were most important to the participants no matter which store it was. In addition, 88 percent of consumers said they were either "somewhat or very satisfied" with their current supermarket, and only 12 percent said they were completely unsatisfied.
The portion of consumers who said they were unsatisfied attributed their feelings to long waits at the cash register (52 percent), not being able to find a store item (48 percent), bad cashier service (39 percent) and the quality level of produce (29 percent).
"We discovered that merely satisfying customers isn't enough to move them to action, said Eden-Harris."When grocers can create experiences that truly delight customers, they can establish brand advocates who are almost guaranteed to recommend that grocery store to friends and family."
---