---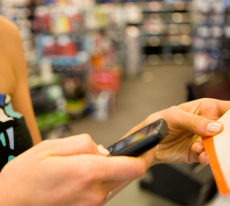 Here's a question for you: Does having a retailer know when you're coming to their store sound creepy or helpful? Or, are you willing to be a bit creeped out for a decent deal?
In an effort to combat the recent surge of customers using their mobile devices to comparison shop, DDR Corp., which owns 500 shopping malls throughout the United States and Brazil, has employed a new technology called "geofencing," where retailers text customers digital coupons when they're in close range of the store.
Another goal of retailers in using geofencing is to capture customers before they use their devices to compare shop, and to send deals that are extremely specific, like texting a customer about a sale on dress socks when they're already in the shoe department. Or sending the customer a coupon for sunglasses as the they're entering the store parking lot on a crisp sunny day.
DDR is using this new technology for a six-month trial period for 27 of its shopping centers, to gauge how effective the method will be in boosting sales and keeping consumers from "showrooming".
As ConsumerAffairs reported earlier in the month, showrooming is a growing trend where customers use brick-and-mortar stores to simply view an item they will eventually purchase online. Often they purchase the item online while still standing in the retailer's store.
Clicks to bricks
"How do we compete with all the clicks that occur in the industry?" questioned John Kokinchak, chief administrative officer at DDR. "We wanted to bring those clicks to the bricks."
DDR primarily owns outdoor shopping centers or strip malls, compared to the glass-elevator-type indoor-malls, where customers tend to visit multiple stores. When a customer goes to an outside shopping center they're usually there for one particular store, so DDR wants to catch the customer when they're in close range to alert them to deals at other stores in the mall.
The international shopping center owners have partnered with Placecast, the company which invented the geofencing marketing tool.
Placecast signed agreements with various cell carriers to see if consumers are within certain store perimeters to receive specific deals and coupons, which makes total sense as customers are receiving digital coupons more than ever.
According to Juniper Research, over 3.4 billion mobile coupons were used in 2011 around the world, confirming the need for companies like DDR to capture customers while they're on the premises.
"The question beyond trying to get a defensive scheme against showrooming, is how can these retailers capitalize on that mobile activity?" said Josh Marti, chief executive of technology company Point Inside. "What you have to do is engage with those customers in the physical domain."
---